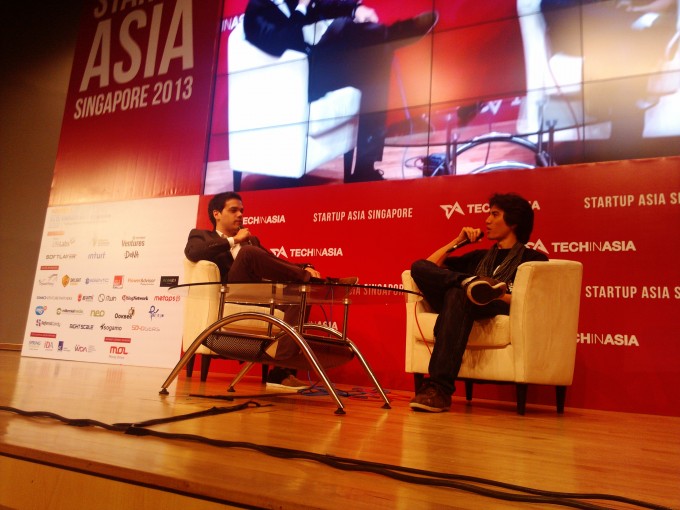 Next, for what promises to be a most entertaining session, Ralph Wunsch, founder of the Groupon-esque MetroDeal.com, talks about how they became the #1 e-commerce website in the Philippines by 2012. With half a million Facebook fans, no less.
#15:45: MetroDeal projecting 24$ million in revenue this year. 200,000$ spent on Facebook and Google ads.
Ralph was born in Austria. Inspired by Austrian success stories like…Arnold Schwarzenegger, and the founder of Red Bull Dietrich Mateschitz. Started a simple e-commerce site on eBay in his teenage years. Made a smooth couple of thousand euros every month.
#15:48: "Every Filipino loves discounts." The difference that MetroDeal bought was an overall knowledge of the industry, and an international background. Ralph was all-in-one for the first six months – sales, marketing, legal, customer service. The first sale happened 15 minutes after the site went live.
#15:50: The secret sauce for every deals website around the world is the same: Buffets for half the price. Burgers for half the price. Teeth whitening, hair rebonding, slimming. The rest is local experimentation and variety. No deal on the MetroDeal site in its first year that sold less than 100 times. Greatest hits: Buffet dinner on a ship, sold 40,000 times in two days. '50% off burgers' deal sold 50,000 times.
Their problems were the same ol' as any startup – scaling, dealing with traffic. Spiky popularity.
#15:53: Currently 2000 merchants on the site. Big names among them. The secret lies in what you add to merchants in terms of value. Merchants see it as a "cash flow machine" – one ice skating rink, for instance, was unhappy at their traffic numbers. Now they have a continuous deal running on MetroDeal, and are able to stay afloat (heehee). They're now present in Indonesia. Plans to expand in SE Asia, become a strange hybrid deals/shopping portal. They already sell hot new products like the iPhone 5 via time-limited offers.
#15:55: The Philippines is still a priority. (Pro tip from Ralph: Easier to enter to do business, for foreigners, than China) The tipping point for MetroDeal was partly the push on Google and Facebook ads: a lot of clickthroughs, incoming traffic, impressions. "We had continuous market spend, and the stamina, and we reached the top."
Future plans: Focus on domestic tourism in the Philippines. With 7000+ islands, there's a lot of scope there.
#16:00: Exit plans? "We're on an exciting ride upwards, to be up there with Google, Facebook and Yahoo in the rankings." They've been approached by various companies "starting with R and other characters". The Philippines is an exciting market, Ralph says. "Have the ability to sift good advice from the mediocre". Metrodeal was dissuaded from starting an e-commerce site because of low credit card use. That factor never came into play.
The Philippines is the only country in the region apart from Singapore with blazing-fast LTE. Mobile is exciting, Ralph says. Next steps include official Android and iPhone apps.
That's a wrap. Onwards to Startup Arena, Day 2!
---
This is a part of our coverage of Startup Asia Singapore 2013, our event running on April 4 and 5. For all our newest Startup Arena pitches, see here. You can follow along on Twitter at @techinasia, and on our Facebook page.