Bali is a widely-known paradise for tourists, treating them to its beautiful beaches, volcanoes, scenic rice fields, great spicy food, and an abundance of adventurous island activities. What you may not know is that Bali has a fast growing startup scene. There are many entrepreneurs, tech talent, initiatives, events, and startups based on the island.
As the ecosystem emerges, co-working spaces are popping up across Bali to facilitate startups' growth and development. If you're looking for a nice place to work, interact, and collaborate on this island of Gods, here are five co-working spaces in Bali to consider:
Hubud was founded by expats Peter Wall, John Alderson, and Steve Munroe. This place is designed with an open space concept, surrounded by gardens, and equipped with amenities such as fast internet, a printer, a scanner, a copier, and a seminar room.
To use the space, you'll need to pay IDR 500,000 (US$41) for 25 working hours in a month or IDR 2,500,000 (US$208) a month for unlimited access. Hubud operates 24 hours a day, so members can come anytime to work. The coworking space also holds regular, free events like meetups and discussions for members.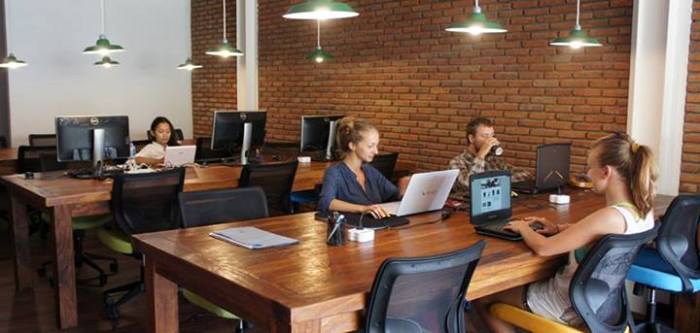 Lineup Hub is a relatively new coworking space located in the Seminyak area. It opened in May this year and has wifi, a seminar room, a coffee brewer, and a PlayStation 4 that can be played by members in their free time.
Lineup Hub's pricing ranges from IDR 1 million (US$83) per month for the Basic package (access to five working days per month and discounts for additional days) to IDR 2.9 million (US$242) per month for the Full-Time package (unlimited access during operating hours, priority on use of the seminar room, locker, and others). For those who just want to drop in, the coworking space has a day-rate of IDR 250,000 (US$20.80). Lineup Hub's operating hours are 10am to 1am from Monday to Saturday.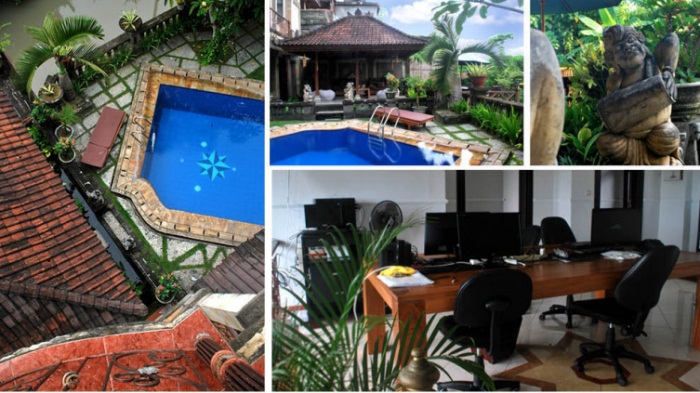 Different from other co-working spaces in the list, Startup Getaway is founded by Liv.it (formerly Contenga) and serves as a tech startup community, coworking space, and co-living concept at the same time.
Startup Getaway provides six power houses for you and your team to work-live-play your passion and dreams. In addition to office space, you can use the kitchen, swimming pool, gazebos, library, and outdoor cafe. The best part? You don't need to think about your daily chores, because Startup Getaway will do them for you. Those six power houses are located at a quiet and private corner in the Gianyar area, and is surrounded by an exotic panorama of paddy fields and connected to stable wifi.
See: 7 interesting startups we met at Tech in Asia Meetup Bali)
Customers at Startup Getaway are usually startups which rent a power house for a certain period of time. However, you can also work here as an individual with a term you can set yourself. Startup Getaway's rates depends on the duration of time and the type of room you rent. The cheapest starts from US$50 per day.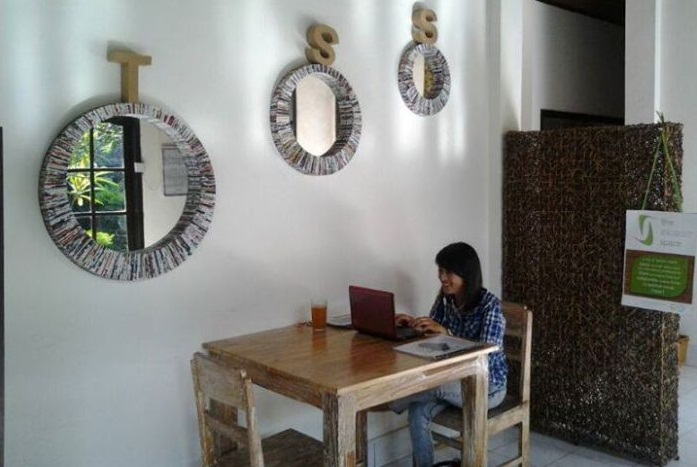 The Sanur Space (TSS) is a coworking space founded by PT EMIK, the Indonesian branch of Dutch research and consultancy firm Emic Research. TSS aims to be flexible for local and international professionals from various sectors, backgrounds, and cultures. The coworking space occasionally holds social events.
There are four main spaces offered by TSS: the main room, the white room, kitchen bar, and the garden green (open space). The main room is usually used as a work space. It is equipped with a printer, a scanner, a copier, a paper-flipover, and a white board. The white room is ideal for presentations, workshops, or meetings.
TSS's pricing is US$15 per day. It operates from 6am to 10pm every day, except Sunday.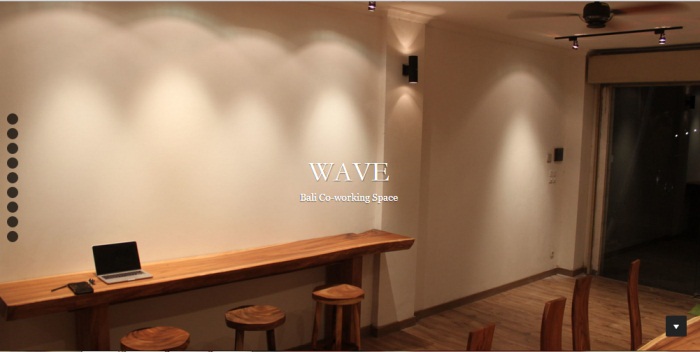 WAVE is a coworking space founded by Ryuta Saito and Noritaka Kobayashi in February 2014. The place aims to facilitate innovators, startups, communities, or individuals.
The Kuta-based coworking space provides wifi, a printer, a scanner, a copier, and free mineral water to members. WAVE can also be rented for events.
Among all coworking spaces in the list, WAVE's pricing is the cheapest. Members can choose a weekly package for IDR 150,000 (US$12.50), a two-week package for IDR 300,000 (US$25), and a monthly package for IDR 500,000 (US$41). For those of you who just want to drop in, you can still use the facilities at a reasonable price that can be negotiated. WAVE's operating hours are 10am to 6pm.