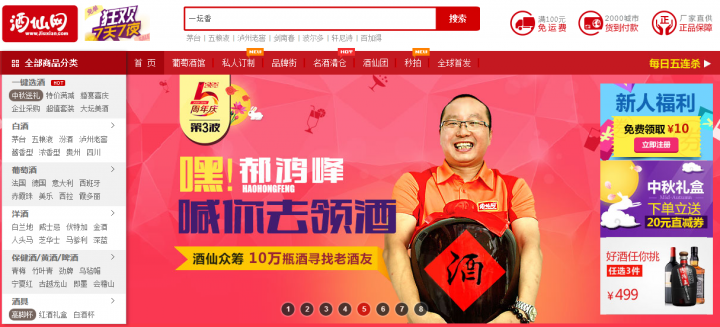 Major Chinese online liquor store Jiuxian today announced it received a RMB 300 million (US$48.8 million) equity investment from a handful of China's state-run banks, including China Merchants Bank, Minsheng Bank, Shanghai Pudong Development Bank, and Jinzhou Bank, among others, according to QQ Tech.
This is Jiuxian's sixth round of financing, adding up to a total of RMB 930 million (US$151 million) in total funding since its series A in 2011. Previous investors include Sequoia Capital, Rich Land Capital, and Oriental Fortune Capital. QQ Tech reports the company will soon seek an IPO, but didn't give an exact timeline.
See: Chinese wine estore cracks open a bottle of bubbly to celebrate nearly $70 million in funding
Jiuxian specializes in wines and Chinese baijiu. It claims to have over 100,000 paying customers across 55 cities in China. The online store's stock comes from over 30,000 outlets. The company aims to to have 10 million customers and 300,000 outlets in the next few years.
Jiuxian also has a huge online-to-offline platform with physical storefronts that it hopes to expand.
China's thirst for wine exploded in the last decade, even straining many suppliers across the world. It's now the biggest market for red wine globally, sipping 1.86 billion bottles last year. That's up 136 percent in the past five years, but more and more analysts point to signs that show growth is slowing down.
(Source: QQ Tech)