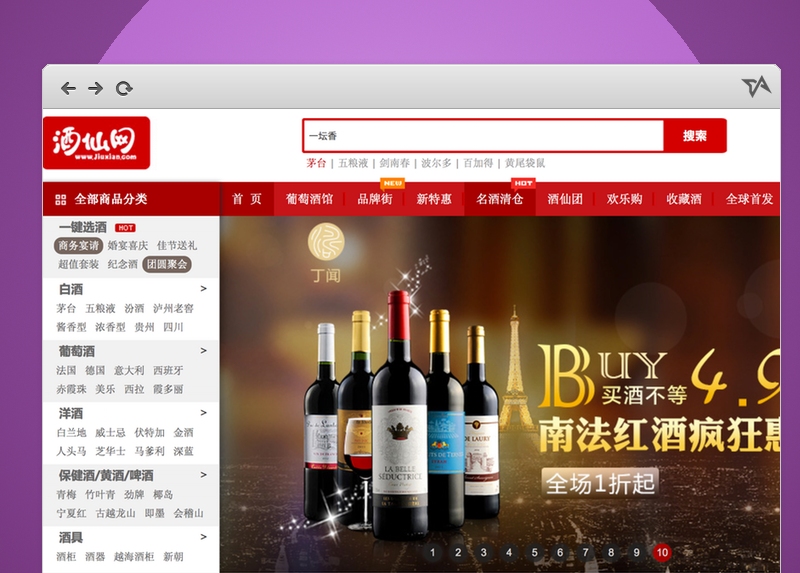 Jiuxian, arguably China's top wine-specialist ecommerce site, has revealed it has secured RMB 420 million – that's US$69 million – in new funding. The site sells red and white wines, champagnes, and spirits from around the world, including Chinese baijiu.
The startup's most recent investors include Rich Land Capital, Oriental Fortune Capital, and Sequoia Capital.
The investment covers two rounds – series D and E – which have just been revealed in tandem. The fourth round of funding was worth US$26.8 million, while the fifth amounted to US$42.2 million. Prior to that, Jiuxian got US$32 million in series C back in August 2012.
(See: China's online alcohol sales to reach $2 billion in 2014)
Covering 2,000 cities
Jiuxian president Hao Hongfeng says the company now has distribution centers in Beijing, Shanghai, Guangzhou, Tianjin, and Wuhan. They allow the estore to cover 2,000 Chinese cities and counties. The company aims to have distribution centers in every provincial capital in the next few years in order to speed up delivery, which would involve having hubs in over 30 cities. Aside from Jiuxian's standalone website, it also has virtual shopfronts on Tmall and JD, China's top two Amazon-esque sites.
Rivals in this specialist ecommerce niche include Moooton, Winenice, and Vinehoo.
(Source: Tencent Tech – article in Chinese)