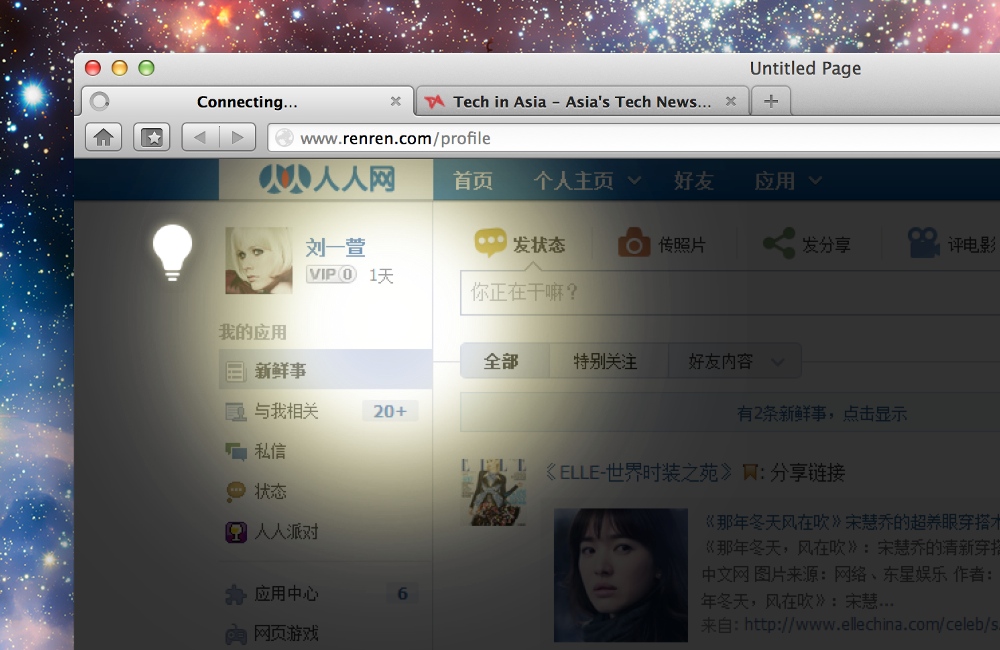 Tomorrow, as 8:30pm rolls around the globe, lots of landmark buildings will turn off their lights to observe Earth Hour and remind the world to not waste our vital resources. Many households will likely join in. And so will six Chinese social media sites, who have vowed to turn off the lights on Saturday evening. As pictured above on Renren, the sites will illuminate their pages only with a single virtual light (1) that follows a user's cursor.
According to CampaignAsia, the six sites backing this environmental movement, alongside Renren, are Youku, QQ, Ushi, 139, and Kaixin. It'll probably be seen by most people on Youku, which is the nation's top YouTube-like site; overall, this support could be seen by as many as 200 million Chinese netizens. Unless everyone's out eating dinner.
The annual campaign is run by the World Wildlife Foundation (WWF), and the theme this year is challenging people to do positive things in return for some karmic reward. For example, these two mischief-making Singaporeans will run down Orchard Road in lingerie if 5,000 people will use reusable shopping bags (2).
Of course, to engage Chinese netizens, the WWF has also taken to Chinese social media rather than YouTube, and there's a localized Earth Hour page as well.
The seventh annual Earth Hour is 8:30 to 9:30pm and will likely be observed by lots of global sites as well. Of course, in terms of pure technicalities, most gadget displays do not actually use less power to show darker hues than lighter ones – AMOLED with its pure blacks might be an exception – so there won't be a net saving in global electricity usage from the 'lights off' websites. Instead, it's more about raising awareness of real-world savings that can be made in our communities.
(Source: CampaignAsia)