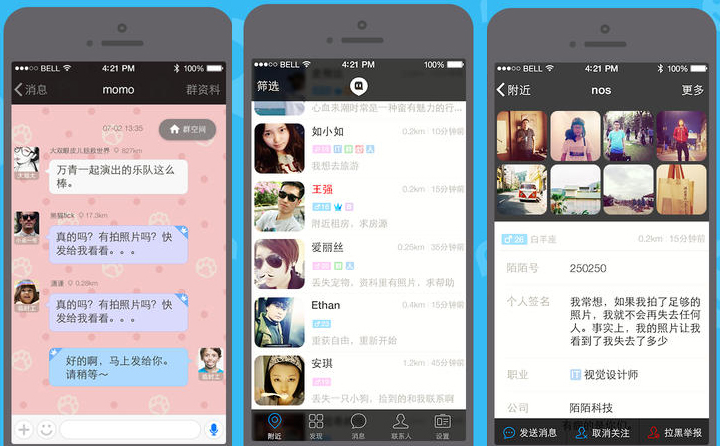 China's favorite location-based flirting app Momo has surpassed 52 million monthly active users, according to Technode. That's up over 12 million since we last checked in on the app in February.
Momo just released version 5.0 this week, which added on a new user rating system that lets users rank their peers based on a 5-star, six-tier system.
As Momo heads at a steady pace toward an eventual US IPO, it's been fleshing out more social features to create more of a fully-fledged social network rather than a shallow hookup app. These include a Facebook-like timeline, user profiles, and the option to create like-minded groups. Nearly 3.6 million groups have been created so far.
See: China's top gay flirting app gets funding, picks up 3 million users
Still, Momo is haunted by its reputation as an anonymous booty call app, and we're skeptical of how many of those active users are earnest as opposed to prostitutes and spammers. Momo was slammed by China's state-run news agency Xinhua in April for being a hotbed of prostitution.
The stigma has both hurt and helped Momo, attracting many curious (see: horny) users, but damaging the reputation of both the company and its members. Perhaps the new rating system will help users better discern between legitimate users and less scrupulous accounts.
It wouldn't be surprising to see officials crack down on prostitution and fraudulent accounts in the same way that they did with Wechat earlier this year.
Momo's registered user base climbed from 100 million in February to over 150 million today.
Momo 5.0 is available in Chinese on both iOS and Android, but the app closed down its English version last month.
(Source: Technode)