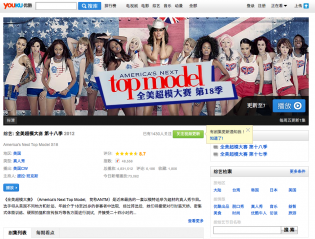 Chinese video streaming Youku.com has just announced that it has signed an exclusive content deal with CBS Studios International for the television shows Survivor and America's Next Top Model. The agreement will mean two seasons of each series will be licensed for streaming on Youku.
Coincidentally, this licensing comes on the same day that China's supreme court announced a proposed stricter stance on unlicensed copyrighted works by the nations internet companies. Youku spokesperson Jean Shao was cited by Computer World as saying:
We have been compliant with international standards for a long time, so we don't think this will have an impact at all.
Indeed Youku has made a number of important content partnerships in recent months, including Lionsgate, Twentieth Century Fox, Warner Bros, Dreamworks, and Paramount. And Tudou, who Youku merged with back in March, has content deals of its own.
As for this latest agreement with CBS, according to Youku's announcement the shows actually began airing weeks ago [1]. The shows are supported by advertising, with a new episode added every Thursday.
---
America's Next Top Model on February 16, and Survivor on March 1.  ↩