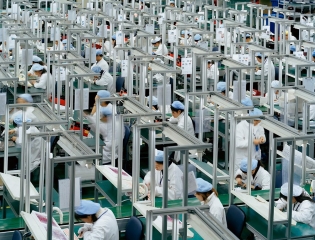 Looking at data from the past seven months, China's Ministry of Industry and Information Technology has released a number of statistics about China's telecomm equipment production. In that time, China has produced 620 million mobile phones, which represents mild 3.4 percent growth in comparison to the same period last year.
China's production of telecom equipment in general has grown a bit more, though, up 17.6 percent this year to reach a total value of 683 billion RMB ($108 billion). Exported equipment accounts for more than fifty percent of that at 354 billion RMB ($56 billion), up 21.8 percent compared to the same period last year.
So what does all of this mean? Well, it means China is still the king of worldwide mobile prone production, among other things. The country produced 1.13 billion mobiles last year, which accounted for more than seventy percent of global production, and it looks on pace to hit or exceed that number this year.
It's also worth asking why mobile phone production growth is relatively slow when compared to the growth seen in the greater telecommunications equipment industry. I'm just speculating here, but I suspect it's in part because the shift to smartphones has meant that some people are switching phones less frequently (since phones are more expensive) and in part because smartphones are naturally more difficult to produce, so even with production ramping up around the country they can't be cranked out quite as fast on the assembly line as old feature phones could.
[MIIT via Sina Tech, Image Source]