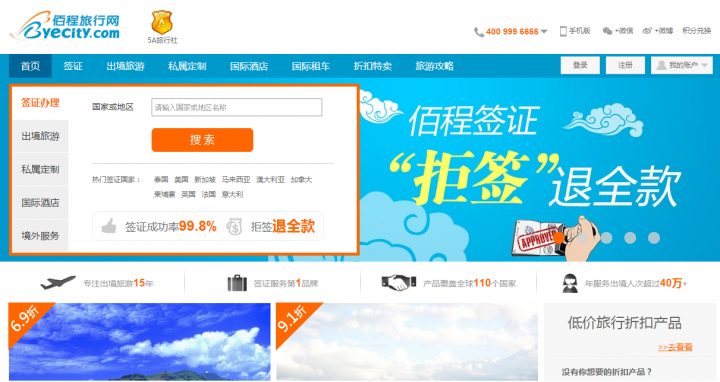 ByeCity, a travel service for Chinese nationals needing a visa for outbound trips, announced today that it secured US$20 million in a series B funding round led by Alibaba and CBC Capital (hat-tip to TechNode).
This is the company's third funding round, with previous investments of US$10 million in 2008 and an undisclosed amount in 2011. But the company has actually been around since 2000 – the early days of China's online travel industry.
Chinese nationals hoping to travel to most foreign countries are required to either join a tour group or secure a visa in advance, even for countries that offer landing visas. The main thrust of ByeCity's business focuses on securing these visas for customers, which it claims to do with a 99.8 percent success rate. For those few exceptions that ByeCity fails to obtain visas, it reimburses their fees.
(See: Over 20% of bookings on China's top flight and hotel site come from mobile)
Last year alone, ByeCity reports it processed 400,000 visa applications, gaining 471 percent year-on-year and over ten times as many as in 2011.
Dozens upon dozens of visa services are available in China, but most only operate on a local level. Traditionally offline business with brick-and-mortar offices, many of them have set up shop on Taobao, the massive C2C marketplace owned by Alibaba, to reach a broader audience. ByeCity is no stranger to this, and already has its own storefront on Alibaba's Tmall.
Taobao Travel peaked at 10 million daily unique visitors last year, offering everything from plane tickets, hotel bookings, vacation packages, attraction tickets, car rentals, bus tickets, and, of course, foreign visas.
It's a ripe market for ecommerce titan Alibaba, which has also put money into Qyer, a site similar to ByeCity with visa services, hotel reservation, and flight booking. The number of outbound tourists from Mainland China is set to double by 2020, according to the International Business Times.
(Editing by Josh Horwitz)