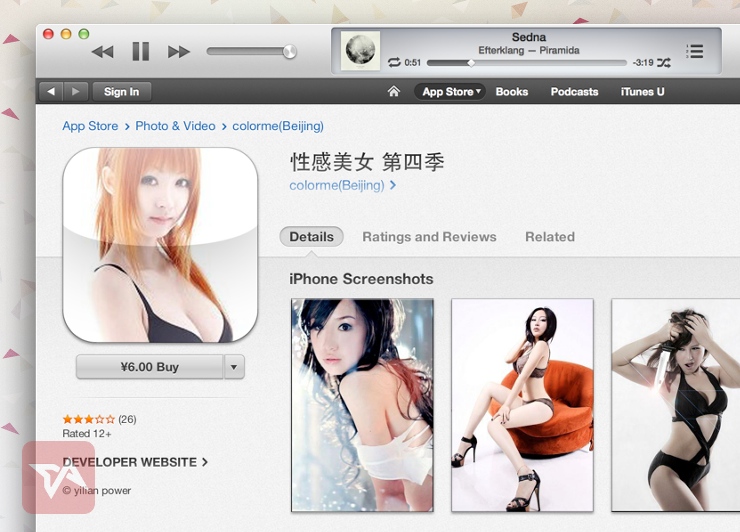 Tim Cook's got more explaining to do. Just a couple of weeks after Apple's (NASDAQ:AAPL) apology to Chinese consumers that followed a media attack on the company's product returns policy in China, the gadget-maker is under assault again. This time, state-owned People's Daily has named Apple's App Store, used by iPhone and iPad owners to get apps and games, among seven online porn offenders in the country.
Pornography is illegal in China, and online sites found to contain sexual material are frequently shut down or blocked. The article specifically says that "these illegal sites should be shut down". While's the People's Daily list likely refers to saucy iOS apps created by third-party developers, Apple will be deemed responsible as the operator of that digital publishing platform.
But since Apple also bans nudity from its App Store, it's hard to see what there is to object to. Yes, there are apps filled with images of sexy girls, but they're all fully-clothed – as in the screenshot above. There's definitely not anything that could be considered "porn" in Apple's iOS store. And if we're talking about exploiting photos of scantily-clad ladies for commercial gain, that's an area Chinese state media is expert at, with puff pieces on state news agency Xinhua like "Top 10 sexy female stars in U.S." and "Top 10 sexy goddess of Asian descent". Basically, those are just as racy as anything found in Apple's App Store. That's one reason (of many) that Xinhua is a joke among expats in China, often dubbed "Skinhua" for its penchant for sultry slideshows. The People's Daily does it too, such as with the recent, facepalm-inducing "Beautiful female journalists at Two Sessions".
While the risk of Apple's iTunes store being blocked in China is low, it puts more pressure on Apple. Perhaps the Cupertino company can take heart from the People's Daily piece not emphasizing Apple that much – it's not even mentioned in the headline or first paragraph. Plus, a possible solution could come from simply forsaking any slightly racy app from its App Store line-up.
Also on the porn blacklist is a third-party Android app store called G-Fans. Surprisingly, no other startup running an Android app store made the list – and the Google Play store, which is far more loosely vetted than Apple's marketplace, has gone unnoticed. The other named sites are obscure ones.
(Sources: People's Daily, via WSJ)