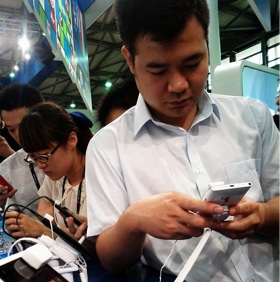 This morning, China Mobile CEO Li Yue announced that the telecom provider is planning to launch its own line of branded mobile phones. Li also said that the company will "definitely" continue and strengthen its work on a partnership with Apple to officially sell the iPhone. At present, China Mobile does not sell phones of its own, and it is China's only major telecom provider not to offer the iPhone (although many China Mobile users do use jailbroken iPhones on the company's 2G network).
If you're excited about the Apple news, don't be: Li's statement is pretty vague and the company has previously said quite clearly that it won't offer the iPhone until 2014. The news about a China Mobile-branded line of phones is more interesting, though. Li asserted that this would not harm competition in the mobile space and that China Mobile would pursue a "Wal-Mart" model of sorts, selling its own phones alongside the handsets of other brands in its stores.
That announcement, too, is a bit premature, as Li said the company is ramping up its plans but is still in negotiations with supplier factories. That process takes time, as does design, manufacturing, and marketing, so I wouldn't expect to see China Mobile handsets sitting on store shelves any time too soon.
It's also interesting that China Mobile is making a move into hardware around the same time as SARFT is making a move into China Mobile's territory: telecommunications services. This is almost certainly a coincidence, but it's a coincidence I think is worth noting. It will be interesting to see if any of China's other telecom providers are considering similar approaches.
[via TechWeb]