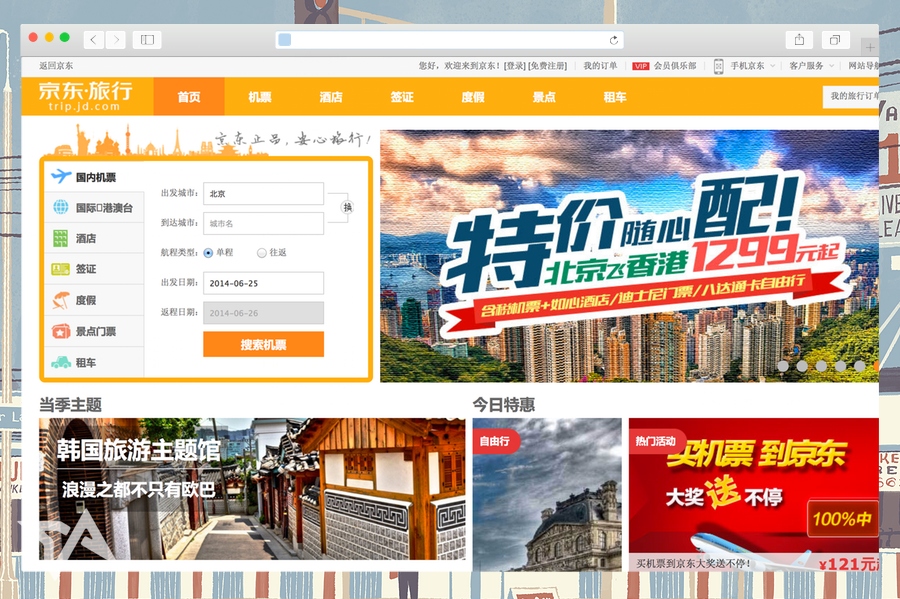 A month after raising $1.78 billion in its massive US IPO, Chinese ecommerce site JD (NASDAQ:JD) is today totally revamping and relaunching one increasingly important aspect of its estore – the online travel booking section.
According to iResearch, China's travel ecommerce market was worth US$1.89 billion in terms of revenue in 2013, making it fairly small but still attractive part of the approximate US$182 billion that Chinese people spent on the nation's estores last year. While this market is still dominated by Ctrip (NASDAQ:CTRP) and Elong (NASDAQ:LONG) in China, general ecommerce stores are battling hard to get their shoppers to do travel bookings on their sites as well. Alibaba's Taobao is doing this, as is JD.
JD's relaunched bookings portal now has the name JD Travel and a new URL. A JD representative tells Tech in Asia that it's going after "mid to high-end customers" with a range of offerings covering hotel bookings, flights, package tours, cruises, day-trips, tourist attraction tickets, and even visa services for those venturing overseas. The tailored travel packages are created in partnership with numerous travel agencies, and include fun things like a 14-day Tesla road-trip across the US (costing US$6,000; pictured below).
JD – formerly called 360Buy – first offered plane tickets in 2011 and then added in hotel bookings in 2012.