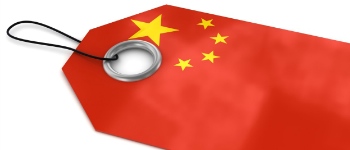 Earlier today we looked at a report that has counted up $6.9 billion in investments among Asian e-commerce sites from 2010 to the present day. A mesmerising $4.8 billion of all that venture capital went to e-stores in China.
Despite that amazing marquee number of $4.8 billion, China's e-commerce landscape is marred by a woeful lack of acquisitions. Basically, Chinese e-stores either exit via an IPO (where China excels), or struggle on as an independent company. Or die off.
The aforementioned report by venture capital database CB Insights points out this huge disparity. Amidst all that investment in Chinese e-commerce (way ahead of the $978 million poured into such businesses by VCs in India), China is actually dwarfed by India when it comes to deals such as acquisitions: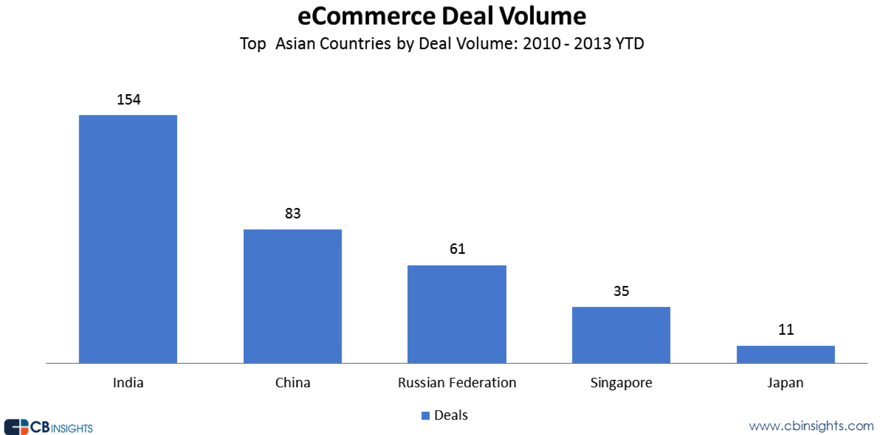 No deal?
So the problem is that no-one is acquiring fellow Chinese e-stores for their own advancement. It's an issue seen throughout the entire national web and tech industries. It's cheaper to throw people at a problem in China. Despite it being a market where an estimated $177 billion will be spent by shoppers in 2013, the nation's e-commerce giants – like Alibaba, Jingdong (formerly 360Buy), Suning, Tencent, Dangdang – don't like spending on acquisitions. Here's the investment and deal volume in the country in the past three years or so: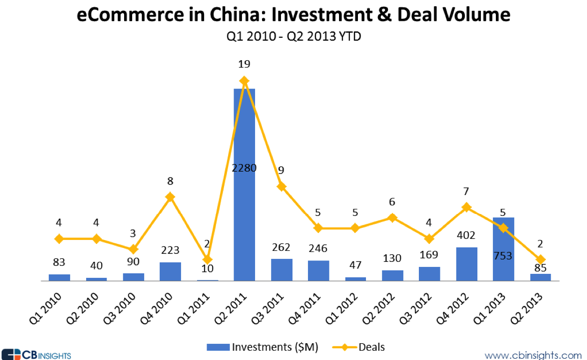 Inevitably, that VC and buy-out money is going to the core growth areas in online shopping in China, such as clothing stores and daily deals: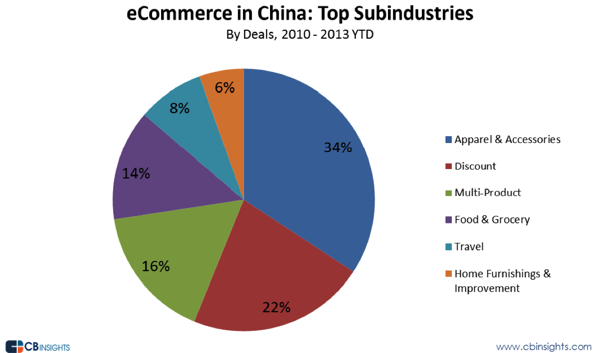 Exit = IPO
Looking on the bright side, China's e-commerce IPO exits are plentiful, with the most recent being B2B marketplace LightInTheBox hitting the New York Stock Exchange just last week. The upcoming IPO that everyone is waiting for will be the biggest tech IPO that China has ever seen – that will happen once Alibaba (which runs market-leading sites like Taobao and Tmall) sets a date. That could value Alibaba at anywhere from $40 billion (the reported valuation based on its recent Yahoo partial stake buy-back) to the fevered heights (in some rather overblown headlines) of closer to $100 billion.
Other possible IPOs include Jingdong, Vancl, and travel booking site Qunar.
But this is the more grim scene in China in terms of buy-out style exits: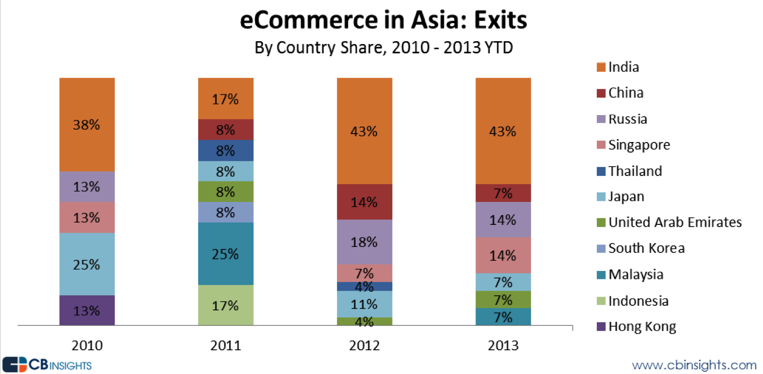 Sinophile VCs
China's top overseas VC in terms of making the most deals in e-commerce in the country is IDG, where they've made 11 injections of capital. IDG's most recent was back in January when it ploughed series A funding into discount shopping aggregator Mizhe.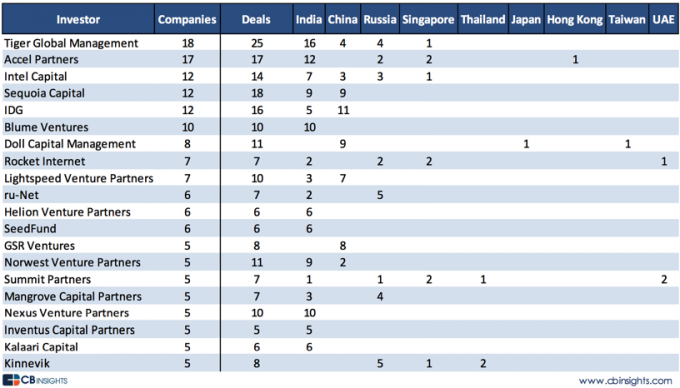 Click to enlarge a bit.
See the full report on the CB Insights blog.