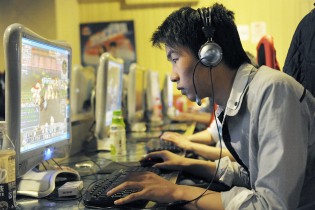 Gaming is big in China and only getting bigger. And while mobile gaming is important, the PC is still by far the most popular gaming platform for the nation's young gamers (see this infographic for more information on Chinese gamers and their preferences). So what are people playing on the PC these days? QQ Games has compiled a list that measures which games got the most play in internet cafes by gathering data from the Shunwang gaming platform used in many net cafes. Here are the top ten:
DNF (also called Dungeon & Fighter, Dungeon Fighter Online, etc.). A Korean-developed beat-'em-up game that's pretty old (released back in 2005) but still very popular in China.
CrossFire*. China's version of Counter-Strike (a tactical first-person shooter), another oldie-but-goodie that was actually developed by Korean devs SmileGate and released in 2007.
League of Legends. The DOTA-based competitive online game that has been immensely popular worldwide.
QQ Speed. A 2008 racer developed and released by — no big surprise here — Tencent Games.
QQ X5* (QQ炫舞). A casual dance game also first released by Tencent in 2008.
Dream of the Three Kingdoms (梦三国). A fantasy battle game developed by Hangzhou-based Electric Soul and released in 2009.
AgainstWar (逆战). A Tencent-developed online first-person shooter first released in 2011.
Fantasy Journey to the West. A fantasy RPG developed by Netease and first released all the way back in 2003.
Counter-Strike Online. The original tactical first-person shooter, popular around the world and still played in China too. Developed by Valve and Nexon, originally released in 2008.
NBA2KOL. As you can probably guess, this is an online basketball game developed by 2K Sports.
If you're wondering why most of the games on this list seem really old, it's because most of these games are frequently updated. Many of them now look totally different and have completely different content when compared to their original beta releases, so even if you've been playing the same title for years, the content stays fresh enough to keep gamers from getting bored.
(Info about the games comes from their Baidu Baike entries, image via this BusinessWeek article which incidentally happens to quote your humble correspondent.)
*Both of these games had alternate versions that also made the top ten list on QQ Games's site, but since they're just two different versions of the same game, I've left the alternate versions out of my own list.