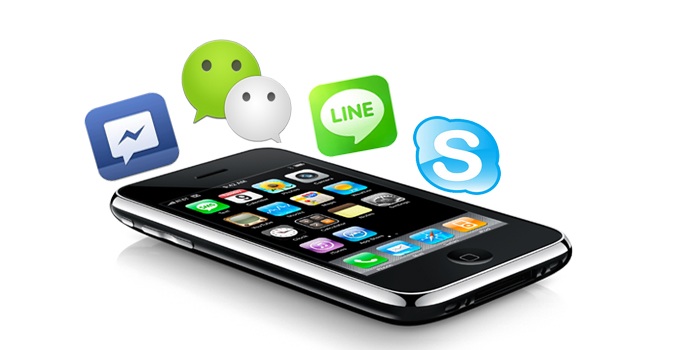 A growing number of Asians are going online through their mobile phones, and this is becoming a problem for telcos.
It's now happening strongly in Asia and the pressing fact has caused the Philippine telco PLDT to sit up and think. PLDT president and CEO Napoleon L. Nazareno underscored the point in the recent inauguration of the Asian Carriers Conference. Napoleon states that the telco industry "is going through a profound and painful transformation because of the disruptive impact of digital technologies." He adds:
The internet and social media are radically altering the way people communicate and are undermining traditional telco services such as voice and SMS.
Chat apps mean less revenue
True enough, we have seen Asian chat apps like WeChat and Line grow their userbases to a cumulative half-billion or more in the past couple of years. It's because people can easily access wi-fi or pay for 2G/3G/4G data charges so as to do a multitude of stuff – talk to peers online, share photos, send voice clips, access social media and the web. Those replace SMS and voice calls.
Partnership with messaging apps
With all these options available to consumers, where do telcos stand? Napoleon says his telco needs "partnership skills" such as "the ability to manage relationships with many partners, or the flexibility to meet the needs of partners with different business models." He adds:
Partnership skills are vital because you need to put together many different players to make connected-life services work.
Indeed, in the Philippines we have seen these come to life. In the past few months, Smart partnered with Bubbly. Likewise Globe Telecom buddied up with Viber then created a bundle service for prepaid subscribers to access all the chat apps.
Globe earlier mentioned that chat apps are not rivals. But it looks like a trend that's hard to defeat – people's inclination to access the internet to do lots of stuff on their smartphones and tablets.
An Asian issue
It's safe to say that this is not only a problem faced by Philippine telcos, but across Asia as a whole. Napoleon addresses the members of the Asian telco industry, saying they "must act now, as quickly as they can […] to avoid learning the hard way."
Asians access the internet through their mobile phones more than people in the US and Europe do. This is driven by younger generations. With that being said, we have yet to see what the future holds for telcos: will it continue to be a hurting industry, or will we see it get healthier and form more partnerships in the future?
(Source: Newsbytes.ph)
(Editing by Steven Millward and Paul Bischoff)