It's Thanksgiving in the US today, and so there's going to be a lot of eating going on. That makes it a good time for the social foodie app Burpple to roll out an update to its iOS app. In the new v1.2.0, the Singapore-based startup has stuffed in a major new feature called Burpple Explore which gives you lots of new location-based options.
'Explore' will pinpoint your position, and then suggest what's good to eat nearby. Once you're at a restaurant, the app could even suggest some top dishes at that place based on what others have snapped within Burpple at that restaurant.
When you're stuck for a place to eat – especially when traveling – then the name of a restaurant is often of little help, but that is often all you see when using things like Foursquare or Yelp. Instead, good-quality user-submitted photos are more likely to give you a good feel for what's on the menu, and that's exactly what Burpple Explore now offers up: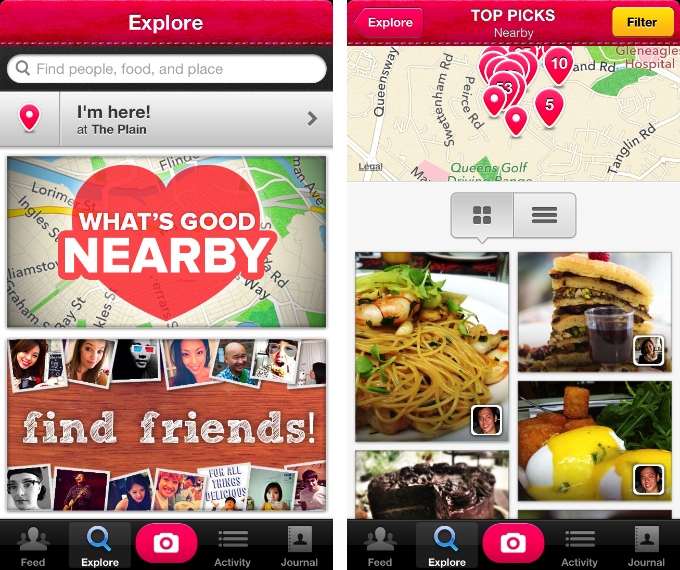 In addition to all that, the updated Burpple app – sticking with the 'explore' theme – now helps you find friends on other social networks who might also be using Burpple. And so you can trawl contacts on WeChat, Facebook, Twitter, and your phone's address book.
To celebrate the new features, Burpple created an infographic (below) of the service's user-base so far. It's interesting to see foodie posts on nearly every continent, and that the young startup has lots of traction in major markets like Europe and the US. Burpple says it has so far seen 150,000+ posts from 3,300+ cities in 115 countries. The top 10 nations that love the app are Singapore, Indonesia, Malaysia, the Philippines, Australia, the US, Thailand, Japan, China, and Canada. The social app added support for Chinese and Sina Weibo back in June, and it has clearly paid off.
The updated Burpple app is now in the iTunes Store – and here's the startup's newest infographic: