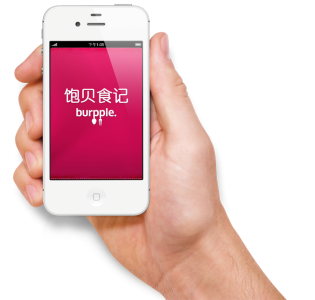 Probably one of Singapore's hottest startups, Burpple, has officially launched the latest version of its social food journal app with support for simplified Chinese text. It has also integrated Sina Weibo, allowing seamless sharing to the popular Chinese social network. This move is in lieu of the startup's plans of formally entering China.
We don't hear many Singaporean startups eyeing the China slice, with many probably afraid of their ideas being rapidly ripped by local teams. I had a chat with Elisha Ong, who is a co-founder at Burpple, on the team's plans for China:
We are humbled when people get inspired by us. We believe the strength in Burpple lies in our ability to continually push the boundaries of innovation, be versatile to learn, and adapt to different cultures of the world.

Chinese food culture is deep and its history is long, and with China being one of Burpple's most popular countries – we felt it was natural to localize the app and integrate with the popular China social network, Sina Weibo, to enable our Chinese users to use Burpple more effortlessly.
Unfortunately, the startup hasn't released an Android version yet, which is definitely missing out on a significant pie in China where most users are on the Android platform. On this, Elisha cheekily tells me to "stay tuned."
I thoroughly enjoy sharing savoury food porn pictures on the social food network, and so I switched my iPhone's system language to Chinese to test out Burpple's updated Chinese interface (pictured bottom right). Having Sina Weibo sharing allows me to introduce the different food in my frequent travels to my Chinese friends on my network (pictured bottom left in the Weibo app), which bridges cultures across the two countries.
Also in this latest update (now v1.1.3) comes a larger timeline box, and you will also be able to do a curated search within boxes.
Burpple comes in really handy, especially at restaurants with menus that do not include pictures for their food. But one thing lacking in the app is that it doesn't allow me to search for cafes or restaurants in the vicinity, which I'm sure would be a feature that will be coming soon on the app.
On upcoming plans for Burpple, the young startup has big dreams:
[If] Evernote is about being the second brain, Burpple is about being the social food brain.
If you're interested to check out the new update, you can download it on iTunes here.