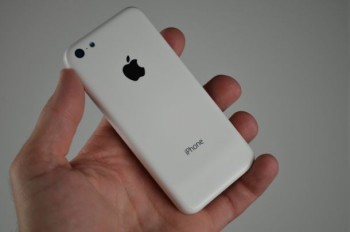 There has been a lot of speculation about Apple's next iterations of the iPhone in the run-up to the company's scheduled launch events next week. But it seems China Telecom has gone and spoiled the surprise; its Beijing customer service Weibo account and tweeted the following message earlier today:
China has been chosen as [the/a]* first country where the iPhone 5S/5C will be shipped! Weibo preorder time! If you want to be one of the people who gets a handset on day one, click: [link]. Those who successfully preorder will also enjoy a high-end gift bag. (Because the iPhone products haven't actually shipped yet, detailed numbers and actual shipping information [may change].
The post appears to have been a mistake, and it has since been deleted from the company's account, but not before Chinese tech sites grabbed screenshots of it. The pre-order link, which led to this site, remains up, but the site now reads "please wait" and allows users to leave a name and phone number if they choose.
If legitimate — and since China Telecom is one of Apple's telecom partners in China, it probably is — the post seems to confirm several of the running rumors about Apple's next phones. There was already speculation that China might be getting something special out of the launch. And the Weibo post also confirms that Apple will indeed be offering a cheaper iPhone 5C in addition to the expected 5S upgrade to the iPhone 5.
It will be interesting to see how the launch of the cheaper phone is received in China. On the one hand, Apple fans will be excited that, for the first time ever, they don't have to wait months longer than Americans do to get their goods. On the other hand, with several cheap-but-powerful domestic smartphones announced in the past week, Apple's early launch may leave it facing stiffer competition than it has before. The iPhone 5C's pricing could be key, and that's one mystery that China Telecom hasn't yet given away.
*The Chinese language does not have articles, so it isn't wholly clear from the original tweet whether China will be the exclusive first country, or whether it has been included in the first batch of countries where the phones will be released. The latter seems more likely than the former, but you never know.
(via TechWeb)