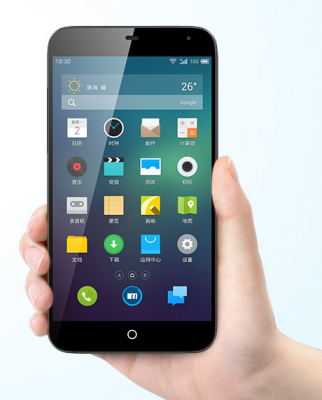 At a press event yesterday in Beijing, Chinese smartphone startup Meizu unveiled its latest handset, the MX3. The device boasts a large 5.1 inch HD screen, an Exynos 5420 processor, two cameras (although the front-facing one is just 2 MP), and an impressively powerful battery that reportedly can last more than two weeks if the phone is on standby. It comes with the newest version of Meizu's Flyme Android ROM (which is version 3.0), and it'll run you between 2499 RMB ($400) and 3999 RMB ($655), depending on how much on-board storage you want. (There are 16, 32, 64, and 128 GB options). Meizu fans can reserve their phones now and they'll be available in the wild later this month.
The elephant in the room, of course, is that Meizu isn't the only Chinese startup that's launching a smartphone whose name ends in "3" this week. Xiaomi's Mi3, the third version of its own Android handset, is expected to be unveiled at a press event this upcoming Thursday. It's not clear yet how the phone will stack up with Meizu's on the hardware front (although there are rumors it will compare well), but if past trends hold, the baseline model of the Xiaomi handset will probably cost 1999 RMB, making it a bit cheaper than the MX3.
So which one will Chinese consumers go for? History says the Xiaomi, but you never know. The MX3 may be the most appealing handset Meizu has yet produced, so it's not implausible the company could siphon away some of Xiaomi's business this time around.
Personally, I wonder if scheduling the press event so soon before Xiaomi's was a mistake, though. I can only imagine all but the most dedicated Meizu fans are going to want to wait and see what Xiaomi is offering before they buy either one. And Xiaomi's price-to-performance ration has been difficult for anybody to beat — so far.