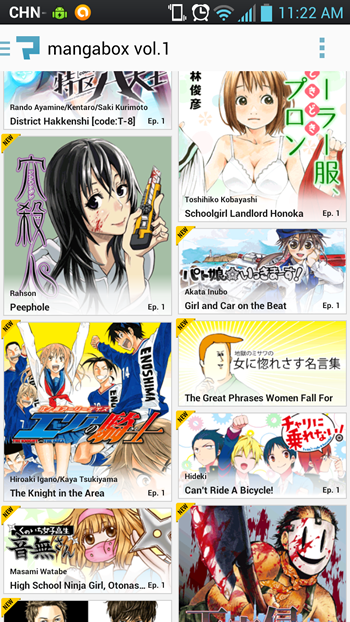 Want some free manga? Japanese web giant DeNA yesterday released a new e-reader for Manga lovers, and all the content is completely free.
Manga Box features 28 titles at launch, many of which are in both English and Japanese. If you want to switch between languages, just toggle the language settings from the launch page. DeNA says it plans to add more languages in the future.
DeNA says three to five more episodes will be added every day. Manga Box's lineup combines original manga series from popular artists, spin-offs of existing series, and a few classics.
Japanese creator of New York Times bestseller Drops of God Shin Kibayashi will lead Manga Box as editor-in-chief.
You probably won't find any hentai in here, but don't go and download the app for your kids. There's still a fair amount of adult-oriented content, and the Apple App Store says you must be at least 17 years old to download due to sexual content, violence, profanity, and drug use.
To monetize the app, targeted ads are placed between some of the virtual pages. DeNA will also be selling printed and e-book versions of the mangas, as well as movie adaptations and memorabilia.
There are a ton of Manga e-reader apps out there, but DeNA hopes to lure in users with original content and bilingual capabilities. The app loads surprisingly fast, but you should probably access it while on wi-fi so as not to burn through your data limit.
Manga Box is available on both iOS and Android.
(Editing by Josh Horwitz)