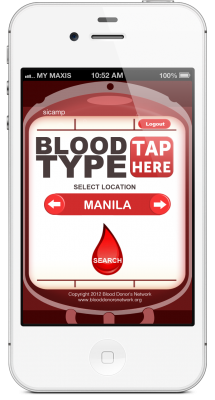 Social Innovations Camp Asia was recently held in Kuala Lumpur, and a while back we previewed the six great ideas with positive social impact that teams would work on during the event. One of those was Blood Donors Network, a non-profit initiative to create a database of regular blood donors in Asia.
I got in touch with Joel Barquez to find out more about how the idea for this project came about. He tells me that he recognized that in the Philippines, as in many countries, there ought to be a system in place to ensure that those in need of blood have an adequate supply in blood banks and hospitals. He has himself been a blood donor for ten years and has advocated regular donations in the country as well.
His motivations run even deeper than that, however, as back in 1997 he was hospitalized with Dengue fever and was in need of a blood transfusion. Unfortunately blood supply was low and the doctor told his relatives to call as many people as they could to donate blood. And they did.
But that experience led Joel to realize that this sort of thing happens to people every day. And given the breakthroughs in mobile communications and web technologies these days, it's good to see him making an effort to transition a recipient's call for help to the web. Overall, Blood Donors Network will be focusing on three things to try to help address this problem:
Increase the acquisition of new blood donors
Increase the retention rate of existing blood donors
Establish comprehensive data about donors
Though web and mobile apps, people can register as part of a community of donors. And on the recipients side, they post the geo-specific blood type request to the network, and can also share it to Facebook and Twitter.
It was a humbling experience at the Social Innovation Camp Asia. I got goosebumps myself meeting these brilliant people from across Asia unselfishly contributing their time and talent to support a worthy cause. […] I deeply appreciate the support and efforts that my team poured into, to make the idea happen in just one weekend, from the outlining of the business model up to the execution of both the web and mobile app prototypes. I was also amazed with the organizers of the Social Innovation Camp Asia that they were able to pull the event off with such a very lean team.
Besides Joel, the Blood Donors team at SI Camp Asia — which was a true pan-Asia effort — included members from China, India, Thailand, Cambodia, Singapore, and Malaysia. They were awarded second place at Social Innovations Camp Asia, and Joel says that in the Philippines, they plan to meet with possible partners to help beta test their prototype over the next six months, and expand the idea in Asia with the help of its diverse team.
If you're in Asia and you'd like to join the network as a donor, do check out their website as well as their Facebook page. It's a great idea and deserving of support.