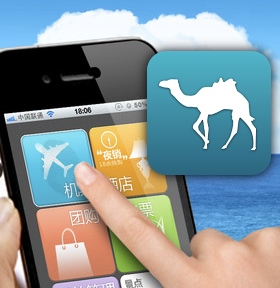 Baidu-owned (NASDAQ:BIDU) travel e-commerce site Qunar is aiming to grow its sales revenue to 1 billion RMB – that's US$160 million – by the end of 2013. Qunar CEO Zhuang Chenchao said recently, as spotted by Bloomberg, that such a sales figure would be double its level at full year 2012.
Turning to talk about mobile commerce, Zhuang added that Qunar's mobile apps have been downloaded more than 25 million times so far, and that should help the online travel agent get 20 percent of bookings via its apps. Last year, 15 percent of all bookings came from mobile users. A few other tidbits that the CEO revealed:
Qunar has lots of room for growth, as only about 15 percent of Chinese travel bookings are made online.
The site manages a 40 percent profit margin on its air ticket sales thanks to mostly online sales. In contrast, rival Ctrip relies more on phone sales, which involve higher overheads.
Qunar expects hotel booking sales to account for 40 percent of total revenue in 2013, up 10 percent from the previous year.
Qunar handled 150,000 flight reservations a day last December.
A private company throwing out all these numbers rather feels like Qunar is trying to butter up potential investors for an IPO this year. Indeed, Qunar is one of many Chinese web companies shooting for a US IPO this year, and the company had previously indicated that it was waiting for a stable market after the tumult of 2011 and 2012.
The travel e-commerce market leader in China is Ctrip, which saw net revenues of 4.2 billion RMB ($668 million) in the whole of 2012, which was up 19 percent from 2011. In second position within the hotel booking sector is Elong.
Zhuang also claimed last week that the site surpassed Ctrip in the fourth quarter of last year as the top e-tailer of airline tickets.
Qunar is also under pressure in terms of hotel bookings from a variety of mobile-only startup apps. One such new rival is BingDian, which last October wrapped up a round of series A funding.
A few days ago, we saw Qunar spotlight its luxury hotel offerings with a new section devoted to boutique and five-star hotels.