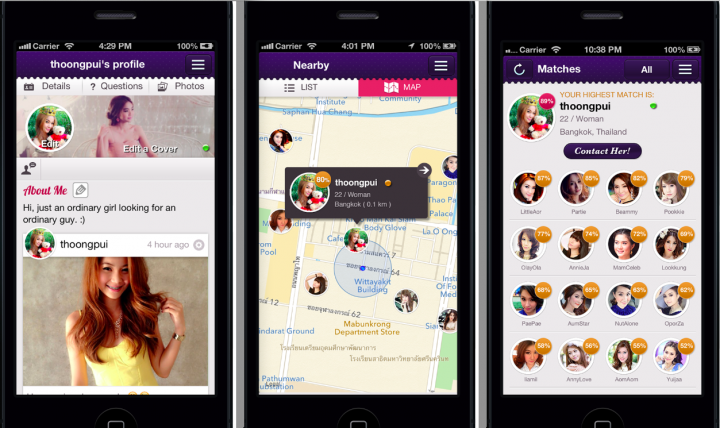 At this rate, there won't be any more singles left in Thailand soon! Dating app Noonswoon seems to be taking off, and now there's another option in the form of Avalable.
Avalable (no, that's not a typo) is a social dating app for iOS and Android. It helps singles locate compatible matches within their own city, using GPS on their smartphones. It also uses personality equations, optionally taps into friends of friends on Facebook, and can use Facebook interests as an algorithm to match people.
The idea from this app derives from the startup's other product, MeetNLunch, an offline high-end matching service. The founder of Avalable and MeetNLunch, Nikki Assavathorn, tells us:
MeetNLunch is a service that has proved itself successful by helping match singles with their compatible match. However, the service is limited to people who live in Bangkok only. Also, since it's not a free service, MeetNLunch is more serious with detailed screening of people who participate in the program.
Wanting to create a more accessible platform with a relaxing environment, Nikki started Avalable.
Facebook for online dating
Avalable is not just a normal dating app that matches people together. It's a community with more info about people than hook-up apps like China's Momo or America's Skout or Tinder. So Avalable is where people meet and actually get to know each other – chat and follow their timeline, not only reading bullet points of what the other person's interests are. The app will send matches to users based on their compatibility scores. Users can also share updates and get notified when people comment on their posts.
In addition to all that, similar to Line and Facebook Messenger, the app also has stickers and emoji available for free.
In conclusion, according to Nikki:
Avalable is not a hook-up app. It's more like a community, with a slowed down pace. People get to know each other better through what they share on their timeline. So it's basically a community to support singles.
But don't worry if you're no longer available. Non-singles can join up and identify themselves as unavailable. They can still be social within the app but their profile won't show up for matches.
Gaming and social graphing coming in v2.0
Panu Ausavasereelert, Avalable's co-founder and CTO talked about getting feedback on the app:
Dating is a numbers game. So far, we have a good record that Avalable matches at least 30 people per day. Among this, we have great success rate. People post their success stories on our wall showing pictures of them on a date.
The app's been downloaded over 40,000 times with a claimed 30,000 active users per month. After all that feedback, Avalable is ready to launch v2.0 of the app at the end of September with a better design and more features.
In that update, Avalable will be using a graph database (similar to Facebook social graph) that, according to Panu, no one in Thailand is using right now. This graph database will enable the app, the team claims, to make matches 1,000 times faster.
In addition, Avalable will soon start offering social gaming on the platform for singles to mingle while playing games. Top Tanapon, the developer of Candy Meleon, a game that rocketed to one million downloads in one week, is the one taking charge of the gaming part for Avalable. The games will be somehow casual so that people can chat and flirt with each other while playing the same game.
Time to expand
After that major update, the team has plans to bring Avalable to Singapore, Hong Kong, and then Malaysia. It aims to add a few countries each month. The startup team also has its eye on China, partnering with Sina Weibo, to be specific. But the team is still worried about the idea of being copied. Of course, there are already plenty of chat-and-flirt apps made by Chinese startups, not just the afore-mentioned Momo.
Nikki also added that because Asians love to share and take pictures, she intends to focus on this area – and focus on expanding within Asia. She doesn't think the app will be as popular in the US or Europe, where people are more concerned about online privacy.
Avalable expects to see 30 to 50 million active users across Asia in the next three years.
Challenges for a Thai social media company
The most challenging part of this social dating platform is content monitoring. There are many sensitive topics in Thailand, including the King and the Royal Family, politics, and nudity, so the startup has a 24-hour team monitoring the content published on the platform.
Nikki explains:
We don't want to be like Vine or Camflog that are flooded with pornography. Before it's too late, we want to focus on monitoring and make sure that the right process has been done right at the beginning.
Monitoring content will also get harder when the app expands to other countries due to cultural differences. The team might consider automating this monitoring process.
Considering the popularity of dating apps in Thailand, I can't help but wonder if there are that many single people looking for real love in this country, or do Thai people just like to flirt and pretend we're single when we aren't? According to a poll by Durex, Thai men are ranked top, and Thai women are ranked second, as the world's most unfaithul lovers. I'm just sayin'.
Avalable is now available for iOS in the Thai app strore, and for Android.
(Editing by Steven Millward and Anh-Minh Do)