We've seen Asian messaging apps rocket to acquiring over half a billion collective users in the past couple of years, with most of them – like Line, WeChat, and KakaoTalk – keen to expand globally. But interesting new data from Onavo provides a useful reality check.
As seen in the table below (hat-tip to TheNextWeb's Jon Russell for spotting it), Onavo's figures show that Whatsapp and Facebook Messenger have much greater global reach, with the Asia-made messaging apps only really dominating their home countries.
One important caveat is that this covers iPhone data only. Nonetheless, it shows that WeChat's 70 million overseas users, and the approximate 75 percent of Line's users outside of Japan [1] are not sufficient to make those the leading apps in any country outside their home base. Line's 44 percent reach among active iPhone users in Spain is fairly impressive, as is WeChat's 53 percent reach in Hong Kong, but both are bested in those two markets by WhatsApp.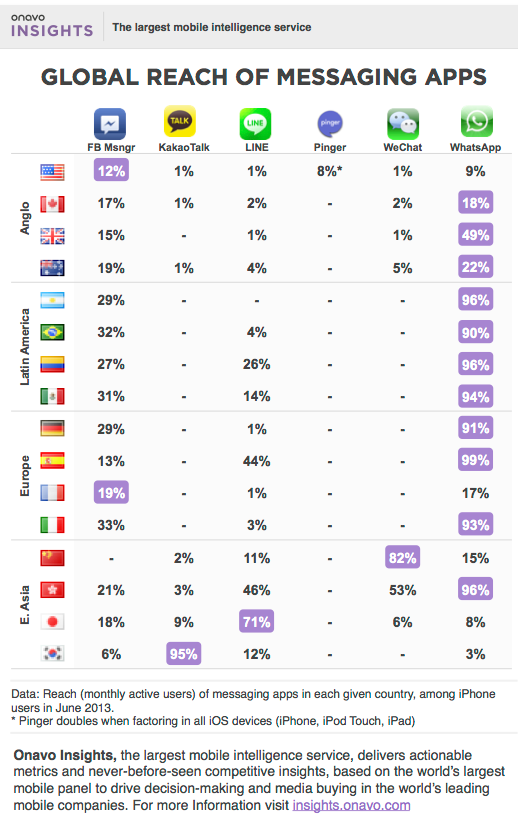 Nonetheless, US-based WhatsApp must be somewhat worried, having copied its Asia-made rivals today by adding push-to-talk voice messaging.
(Editing by Anh-Minh Do, Enricko Lukman)
---
WeChat has nearly 400 million registered users in total; Line has over 200 million. But Whatsapp has 300 million active users.  ↩