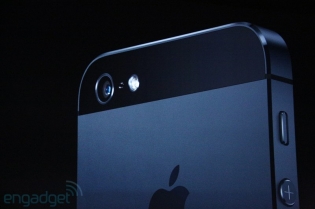 Just now, Apple announced its newest smartphone, the iPhone 5. I'm guessing this isn't coming as a surprise to you. But what does Apple have to say to Asia? When and where will the phone be available? We tracked several liveblogs of the announcement and have distilled the Asia-relevant bits into the paragraphs below:
First off, the phone does sport a brand-new design, with a larger screen. As ridiculous as this sounds, the fact that it's going to be visibly different from the iPhone 4 and the iPhone 4S should help its sales in China, as iPhones are a kind of status symbol and people like to show off. Other hardware updates like a better camera and support for panoramic pictures should be as popular in Asia as they are everywhere else — after all, who doesn't like taking panoramic pictures?
In terms of software, the phone will run the new iOS 6, which features a bunch of upgrades, including Apple's new Maps app. It looks amazing, but I suspect that depending on your location, results may vary in Asia. I'm sure it's got a fully 3D Tokyo set to go with turn-by-turn driving directions, but if you're in rural Laos, I'm guessing they don't have 3D satellite imagery of your area yet. You never know though; Apple didn't specifically address this in its presentation.
The new iOS 6 also features an updated Siri, although it's not clear what languages she's launching with, and more widespread Facebook integration. The latter update obviously doesn't do much for China, where Facebook is blocked, but it will likely prove popular in other countries like Japan and Korea, where the site has recently been growing in popularity.
The phone is coming to a number of Asian telecoms — no surprise there — including KDDI, KT, SK telecom, SmartTone, SingTel, SoftBank, and more. Since it supports LTE networks, many of these carriers should be offering the phone with 4G. No Chinese carriers were listed, probably because the phone doesn't have an official China release date yet, but of course when the phone does come to China there is no 4G network to use it on, and there won't be for at least another year.
So when can you get your hands on it? That depends on where you are. Japan, Hong Kong, and Singapore will get it at the same time as the US and the UK (among other places) on September 21. 20 additional countries will get the phone in October, and Apple says it will be in more than 100 countries by December.
Needless to say, a Chinese release date was not listed. We don't expect the iPhone 5 anytime soon in China — there's generally a delay of at least a month or two while it goes through China's painfully slow permit processes — but at least one person appears to be already lining up for it outside the Shanghai Apple store. Good luck, dude; we hope you brought some food with you because you're in for a long wait.
Unsurprisingly, Apple didn't mention that this iPhone is brought to you in part by the forced labor of thousands of Chinese college students who were made to work at Foxconn to help keep up with Apple's demand needs prior to launch.
(Apple also announced updates to its iPod line and to iTunes, but there wasn't anything there that's particularly significant for Asia specifically.)
[Image via Engadget liveblog; info via Engadget and Ars Technica]