New figures from Nielsen/NetRatings indicate that Facebook's (NASDAQ:FB) reach is extending among Japanese and Korean markets. Their new report says that among PC users [1] Facebook's visitors in Japan for May amounted to about 17.2 million, Looking back on the same figure for the previous year, that number was at about 8.2 million.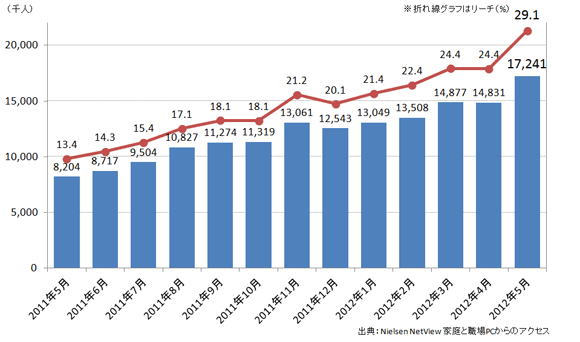 It's important to note, however, that as impressive as this growth is, the report estimates that Facebook's reach among the general population is still only about 29 percent. When you compare that to other nations like Brazil (77.9 percent) or America (67.2 percent), then there's still a long way to go.
I should point out that this report does not include individuals who access Facebook via mobile devices. Most likely, Japan's newfound love for Facebook would be even more apparent if smartphones were factored into this equation.
The report also has some interesting insights into Facebook's success in Korea. Currently, the popular social network is still behind the domestic incumbent Cyworld, according to Nielsen/NetRatings. But Facebook's trajectory sees it steadily growing, and it could overpass Cyworld in visitors the next year or so.
It should be noted that Social Bakers, another prominent source for Facebook metrics, puts Japan and Korea at about 10 million and 7 million users respectively.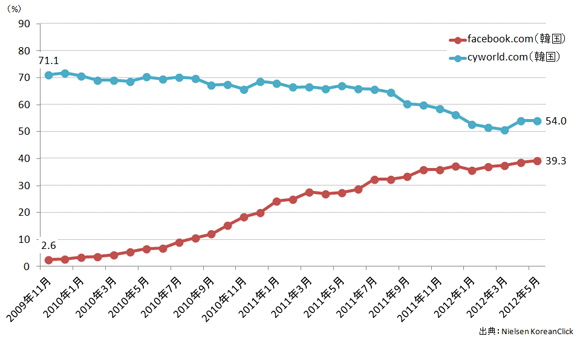 ---
I'm told that Nielsen/NetRating's figures are based on data collected from their audience 'panels' of individuals, and that data is then weighted to be representative of the national population.  ↩