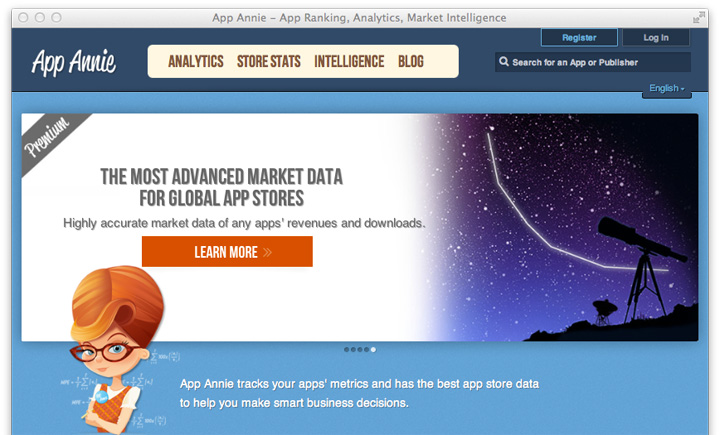 App Annie is a mobile app store data provider with its headquarters in Beijing, China but it is operated with an international team and vision led by founder and CEO Bertrand Schmitt.
Not many people know but App Annie was actually first started by an offshore outsourcing development company in Beijing called Exoweb in March 2010. Unfortunately, the Exoweb team didn't have any idea on how to monetize it. But Bertrand saw the potential, he spun-off the company from Exoweb (they remain as minor shareholders), and took over App Annie's operations in April 2010 with around five people in the team. He told me:
The people at Exoweb are friends of mine. App Annie was a free product. They were focusing on other stuff, software products, and not working on App Annie. I was also very frustrated with the lack of market data on the stores. So I felt as a marketer, I was missing a lot of information about what are the most interesting markets, how much are others doing in terms of downloads etc.
Bertrand who has been in the internet and mobile industry for 14 years also said that the early version of App Annie, though it only had basic data, could serve as a base for premium market data in the future. It first started tracking iOS applications but it now also tracks other app stores such as Google Play and Amazon.
While other data providers provide SDKs to track what's happening for apps in terms of usage. At App Annie, Bertrand says that things are done different because it is connecting to the backend of the stores to get the data. To put it simply, App Annie works with Apple and Google directly.
For its premium product, App Annie has developed a statistical model with 90 percent accuracy that estimates an app's revenue opportunity, market share etc and is today used by companies such as Gameloft, Microsoft, Nokia, Google, Tencent, and more. Bertrand assures that the top ten apps are well-measured since they are used by most users.
Today, the App Annie team is made up of about 85 people across 16 nationalities. 70 of them are based in Beijing who largely focus on the product. The others are in San Francisco, Japan, and London who focus on sales (Update: SF is a secondary headquarters for App Annie's sales, marketing, and market insights.). The App Annie team uses English across all team members and that includes its Beijing headquarters. When asked why China, Bertrand said:
We like it in China and China is a fast growing market. It is hard to get into the market so starting in Beijing is easier.
Despite being a fast growing market, the large publishers who are willing to pay for App Annie's products are mostly still international companies. 90 percent of App Annie sales are generated outside of China with US and Japan its biggest markets.
To date, App Annie has raised $7 million of venture capital in total and is already cash flow positive. Over 220,000 apps are using App Annie with 85 percent of the top 100 iOS publishers using its service.
"At some point, we're also interested to do digital content, not just apps," said Bertrand.