Just last year, we cited a US report that shows 99 percent of music downloads in China came from pirated sources. In the Philippines, the situation is almost the same, and startup Amplify wants to help change that, or at least lessen it.
Amplify managing director Dan Feliciano says, "we feel that people don't like to pay for music anymore." He adds:
If people wanted to get music online for free, they will find a way to get it for free. The tools are certainly there; torrent and mp3-download dedicated website run rampant with no signs of slowing down. If one torrent site closes today, three more pop up tomorrow. Beyond direct downloading, there are other tools that help people extract mp3s from various sources as well; Youtube converter sites such as Listen to Youtube enable people to copy and paste a YouTube URL and convert the video into an mp3 song file.
Started in June, Amplify is a website that provides free music downloads of original Filipino songs while also compensating the artists. They do this by running a 15- to 30-second video advertisement before the download actually starts. The artists then get their deserved share from the music download by receiving a cut from the advertisement. The artists and Amplify have a 60-40 percent sharing deal from the ads, which is also where the startup gets its revenue.
To date, Amplify has over 500 songs in its site from over 200 artists. It aims to have over 2,000 songs by the end of the year.
Apart from helping local artists, it helps advertisers through an algorithm that allows their ads to show within their target market.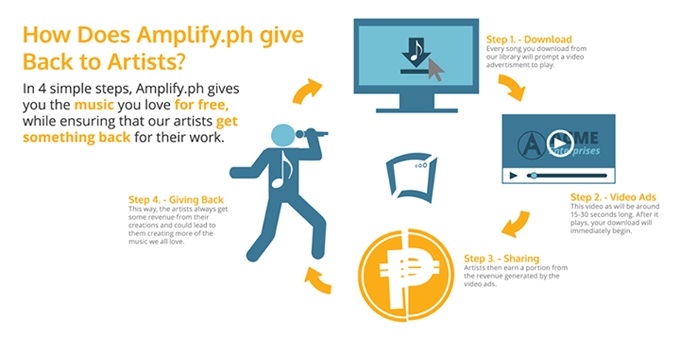 Tapping more users and countries
Amplify believes that they are the first in the Philippines to implement this kind of model. Currently, the site has around 1,000 users, and 4,000 downloads so far. Dan says they are looking forward to getting more users. "As the users and the content come in, we'll get more advertisers."
The startup is a team of six, apart from Dan, he says he couldn't have created such a site without them: music and arts director, Dylan Pizarro; operations director, Tim Cardenas; technology director, Pao Narciso; creative director, Ponci Solingco; and editor in chief, Mia Olivar.
Amplify is also looking into creating a mobile application that will allow people to download music through their smartphones. Dan says the team wants to pose Amplify as a "channel where people find bands and get music." Apart from the Philippines, plans in the pipeline include expanding in other Southeast Asian countries such as Indonesia, Thailand, and Malaysia.
True enough, for a region where piracy is rampant, such a site will be helpful. It just needs people to realize they can get music for free without resorting to piracy.
(Editing by Paul Bischoff)