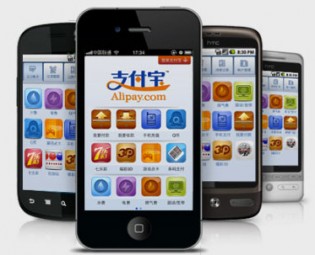 Online payment is a lucrative market sector, and like almost other aspect of China's tech sector these days, it's going mobile. How mobile? So mobile that far-and-away market leaders Alipay are reporting that in 2012 the amount of money paid through their wireless payment system went up 546 percent compared to the previous year. Yes, you read that correctly.
Unsurprisingly, the raw user numbers have also gone up; Alipay reports 223 percent growth in wireless payment users over 2012. In fact, more people are now using Alipay to make payments via mobile devices than are using it via a PC desktop or laptop. That shouldn't come as too big of a surprise given that it's actually faster by a full minute to pay via mobile. It also means that a whole boatload of people are using the mobile payment system; given that Alipay as a whole has more than 700 million registered accounts, it stands to reason that more than 350 million of those accounts are now being used with mobile payments.
An Alipay spokeman told Sina Tech that the people using Alipay on their mobiles are mostly younger, unmarried males who use it for games and internet shopping. That shouldn't come as much of a surprise — the internet, after all, is full of dudes who like games and prefer online shopping to the real thing — but it's still interesting. It could be an indicator of further swift mobile growth if Alipay's army of female shoppers also begin to switch to primarily wireless purchasing habits.
(via Sina Tech)