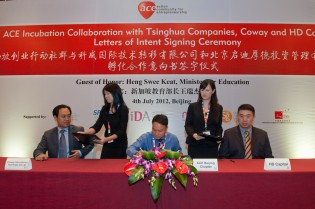 Disclosure: Jason sits on the Steering Committee of ACE Beijing Chapter, as the chair of the research committee.
---
Good news for Singaporean entrepreneurs looking to venture into China. Yesterday evening in Beijing, Singapore-backed ACE Beijing Chapter together with two companies under the umbrella of Beijing's Tsinghua University – Houde Capital and Coway International – announced a partnership to help Singapore entrepreneurs gain access to China more easily. With the collaboration, Tsinghua will effectively provide assistance in the form of technology incubation, mentorship, and advice for the Singaporean startups.
Houde Capital is a member company under Beijing's Tsinghua University, and invests in innovative technology companies. Coway International TechTrans manages Tsinghua University's International Technology Transfer Centre and commercializes Tsinghua's technologies.
James Tan, the chairperson of ACE Overseas Chapters and co-founder of 55tuan and QuestVC, commented:
China's fast growth is well-known, and opportunities are aplenty. However the business practices and environment are very different from Singapore. Hence, by this collaboration, we hope to leverage on the available local resources, which will definitely help our Singaporean entrepreneurs in taking a big step forward in their overseas ventures.
So Singaporean folks who are interested in the Chinese market, do visit the ACE website now!