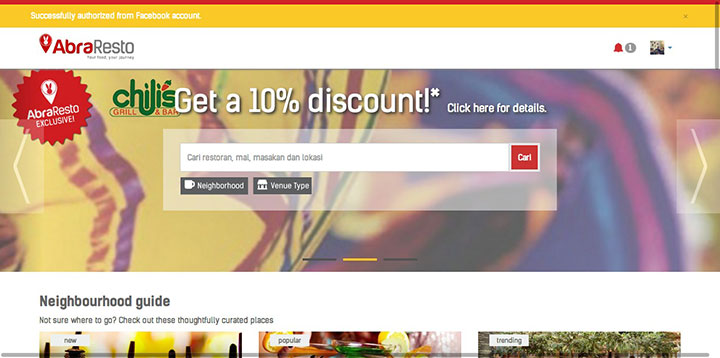 Indonesia is known for its delicacies, and it's great to know that more startups are showcasing the country's culinary potential online. One such company, food directory AbraResto, revealed today that it has expanded its service to Bandung. The website starts off with 4,000 restaurant and eatery listings for that city, which tips the total number of entries on its database past the 40,000 mark.
AbraResto says it has grown at a tremendous pace this year, averaging 182 percent month-on-month growth in 2014. Currently the startup records 1.2 million monthly page-views, with more than 8,000 reviews and ratings submitted by its users so far.
Besides searching for dining information, AbraResto users can also 'follow' other food lovers to get their recommendations, similar to what India-based Zomato recently started doing.
Bandung is a popular food destination in Indonesia, and a lot of Jakarta residents will travel there over the weekends just to get a taste of their favorite dishes.
(See: New food discovery site Abraresto will find tough competition in Indonesia)
AbraResto CEO Ankur Mehrotra, who previously worked in the banking industry, explains:
With the launch in Bandung, residents and travellers alike now have easy access to information about all the top food spots in town. Whether you are a traveller or a local, in a culinary heaven like Bandung, there is always more to explore.
Competition in Indonesia's restaurant hunting space is quite tough. AbraResto faces rivals like Qraved, OpenRice, IndoTable, and MakanLuar. AbraResto's recent US$1.5 million funding will definitely come in handy in growing faster than its many rivals.
(See: 17 food apps and startups in Indonesia)
---
This post was originally published on our Indonesian site Tech in Asia ID, which you should totally bookmark and follow on Twitter and Facebook now.