Update: We added one more food startup that we found in Indonesia
---
Considering taking your family and friends to a fine restaurant, need to order a food delivery, or maybe you need home-cooking inspiration? Here are 17 food apps and startups in Indonesia to help you get a bellyful.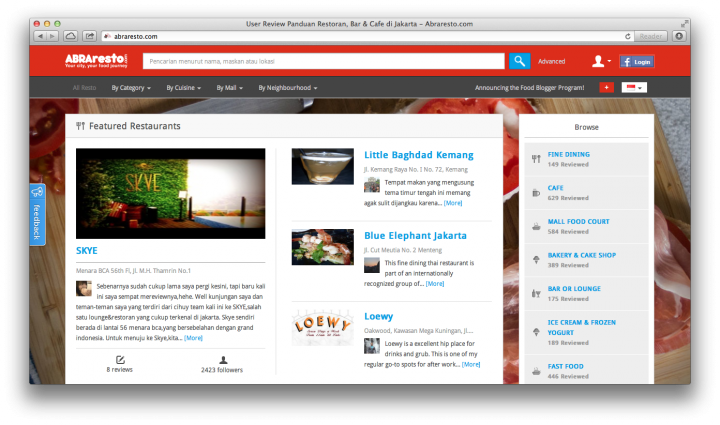 Abraresto is a food discovery and review site that lets users browse food based on the kinds of venue, cuisine, and location by mall and neighborhood. It was built by the same team behind Singapore-based restaurant booking site Abratable. Abraresto also has search filters allowing users to find places based on facilities like wi-fi, a non-smoking area, and halal food. Its mobile site lets you find nearby restaurants.
By this October, this site has more than 5,000 listings for restaurants, bars, cafes, and street food in the Jabodetabek (Jakarta, Bogor, Depok, Tangerang, and Bekasi) area.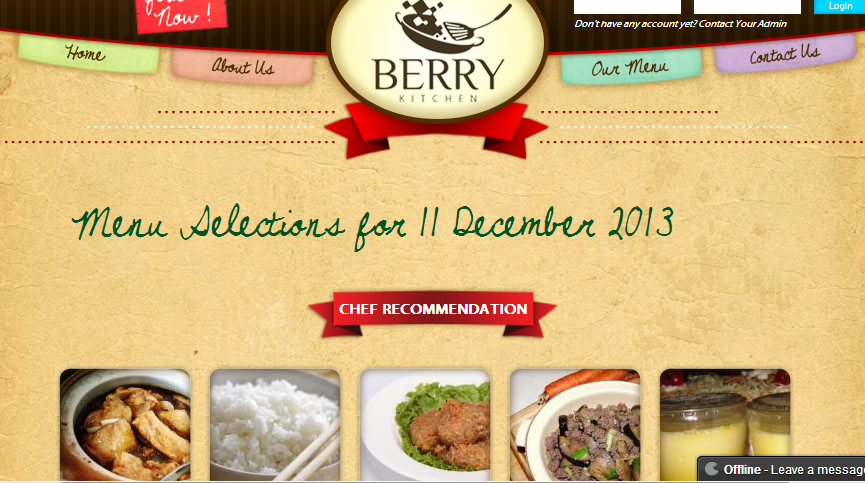 This site claims to be the only online lunch box catering service in the country. Berrykitchen covers main dishes, meats, veggies, and even desserts.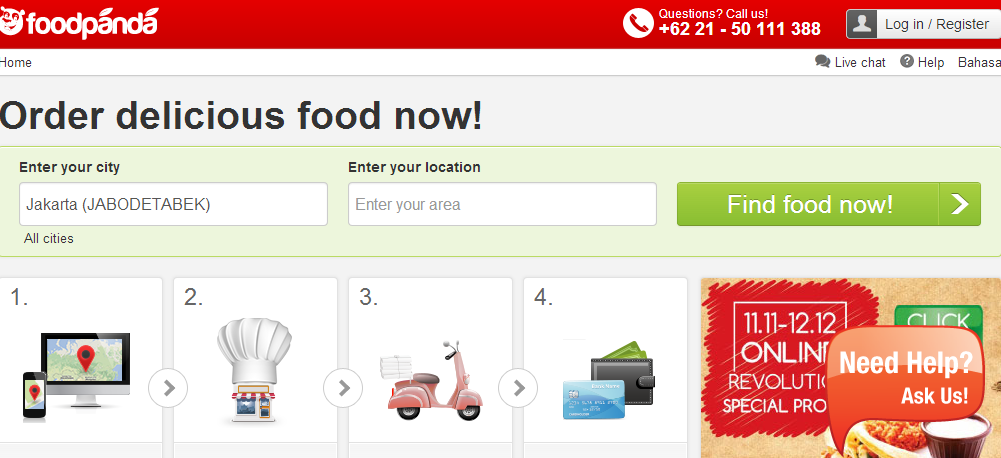 Foodpanda operates its food delivery network across Southeast Asia; in Indonesia it works in Jakarta, Bandung, Surabaya, and Bali. This site has partnered with hundreds of restaurants in those cities. The Foodpanda Indonesia app is available for iOS and Android.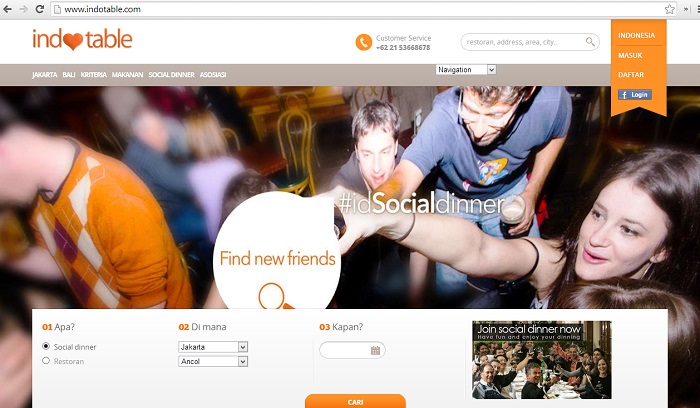 Indotable targets middle-class users (both locals and foreigners) and companies that are willing to pay for good food or that spend time on business deals at restaurants. It's only open in Jakarta and Bali for now. This "social dinner" platform, which was launched in September this year, lets its users create their own social event around any theme, such as trying new meals together, wine tasting, language exchange, product or service promotions. It also aggregates reviews from other services so diners don't make the wrong choice.
Like Qraved (see number 13), Indotable also provides a restaurant reservation service, but it doesn't really focus on it.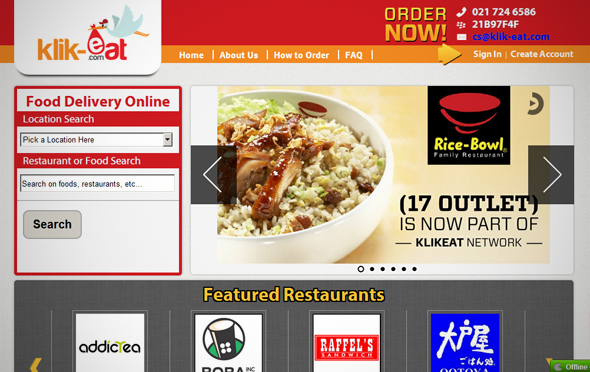 Klik-Eat is Foodpanda's main competitor in Indonesia, especially in the area of Jakarta. It lets its customers order food from the hundreds of restaurants that have partnered with Klik-Eat.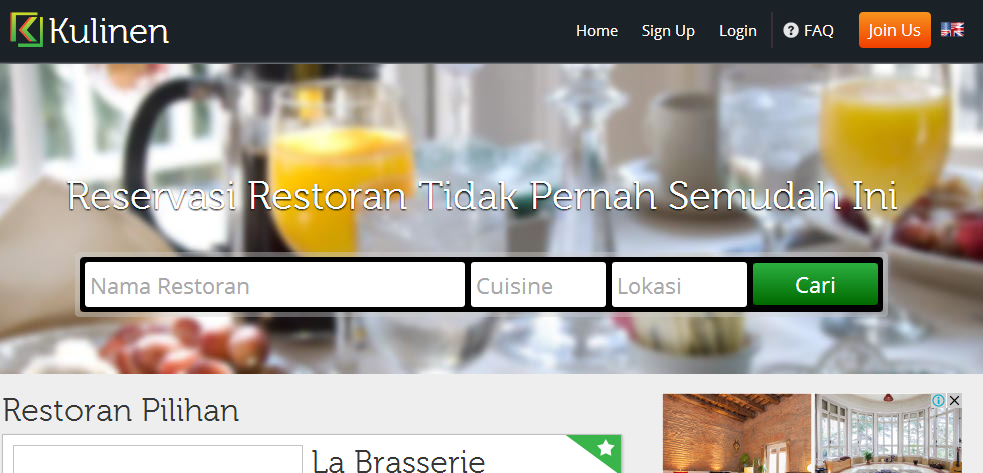 This is an online restaurant reservation site that covers restaurants in the city of Jakarta and nearby Bandung; plus it's in Bali. It claims to have real-time search results, since it has a system that allows restaurants to manage their place availability. All bookings can be made for free.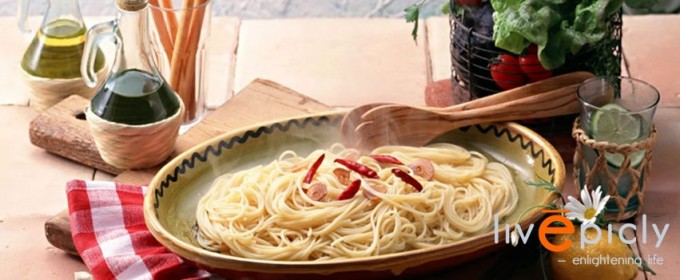 Another online restaurant reservation site, this one offers a real-time dining reservation. What makes this site stand out is the way it lets customers order flowers and cakes as part of their table reservation, which makes it good for celebrations like birthday outings. LivEpicly can also pass on other unique requests to restaurants. It is available for diners in the Jakarta area.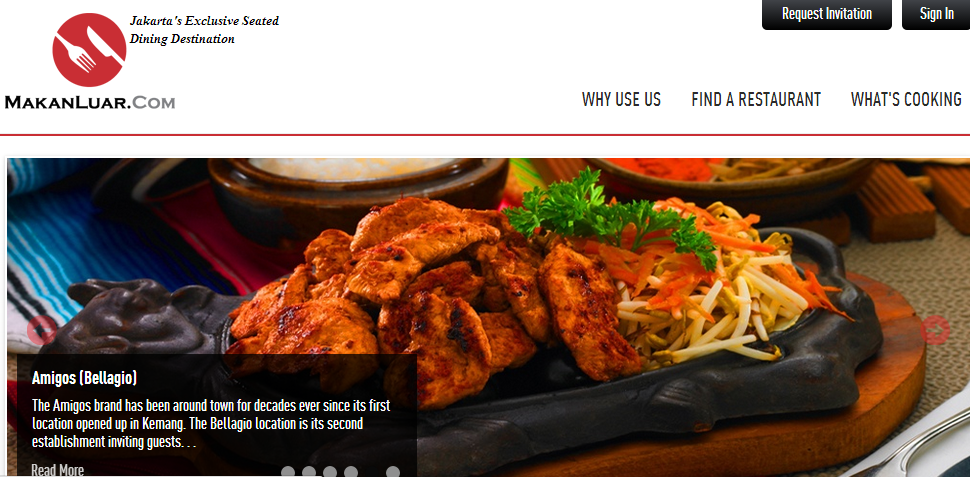 MakanLuar is another online restaurant reservation site for Jakarta. It rewards customers who accrue points after making reservations or writing reviews. The points can be redeemed for meals during the next reservation.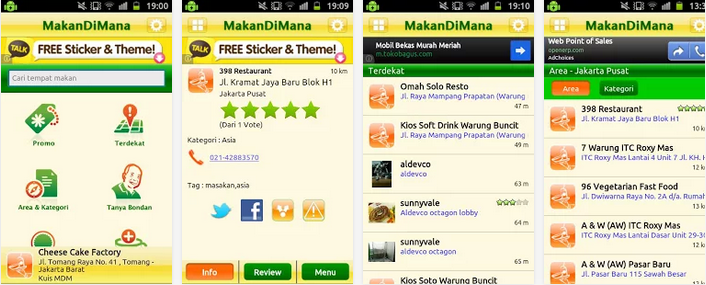 This is a popular app that helps find the nearest places to eat. This app is owned by Indonesian news site, Detik. It provides restaurant listings, promo, recommendations and more. MakanDiMana also has a feature where users can add restaurants or venues that are not listed yet in the app.
It is available for iOS, Android, BlackBerry, and Windows Phone 8.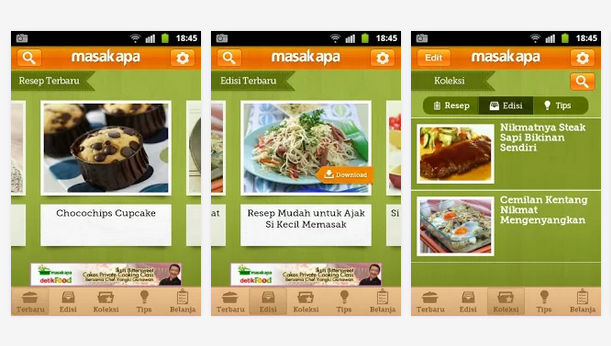 It is another food app which is owned by Detik. MasakApa is an app that lets its users to find food recipes and tips. It also provide some cooking tutorial videos. MasakApa is available for iOS, Android, Windows Phone 8, and BlackBerry.

Menoo! is one of MakanDimana's competitor. Once users download the app, they can find the name of a restaurant, its address and the types of food it serves, as well as other details such as prices, promo, and food reviews. Menoo! is also equipped with Location-Based Service technology and is integrated with Google Maps.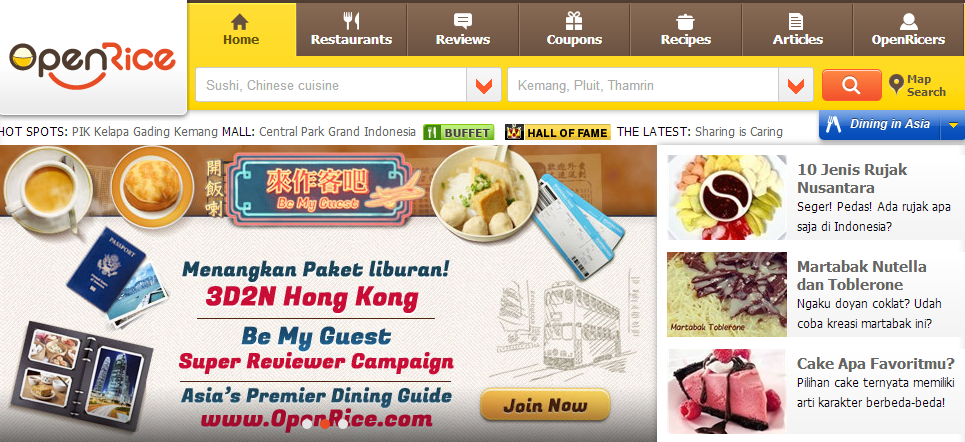 OpenRice Indonesia, part of Hong Kong-based OpenRice network, was launched in April 2010 as a restaurant information site and sharing network for Indonesian food lovers. At the moment, there are around 86,000 restaurants listed, mostly from big cities such as Jakarta, Bali, Semarang, Surabaya, Yogyakarta, and Bandung.
Besides detailed information like the address, a map, phone number, operating hours, and signature dishes, the site has restaurant reviews written by members. By this October, around 34,000 members of OpenRice Indonesia have made and shared 130,000 reviews.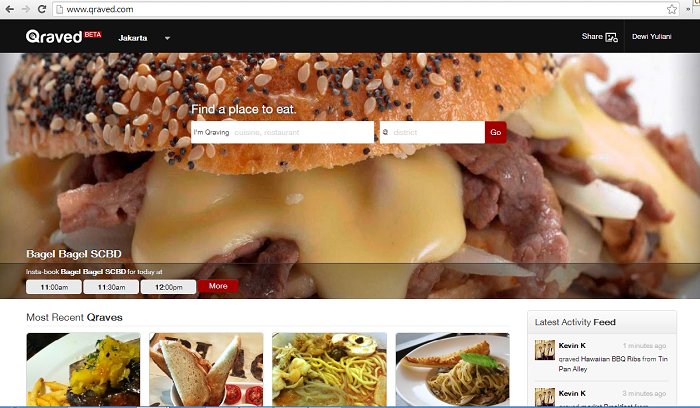 Qraved is a food social network. Launched in August this year, it aims to give the best food experience in town by letting you browse and share food photos with added descriptions. Other users can upvote the food by clicking "Qrave it" (similar to a Facebook 'like') and optionally leave a comment. Qraved also enable its users to make a restaurant reservation through its platform.
Only ten days after its launch, Qraved raised seed investment from Rebright Partners (which led the funding round), 500 Startups, and Skype co-founder Toivo Annus.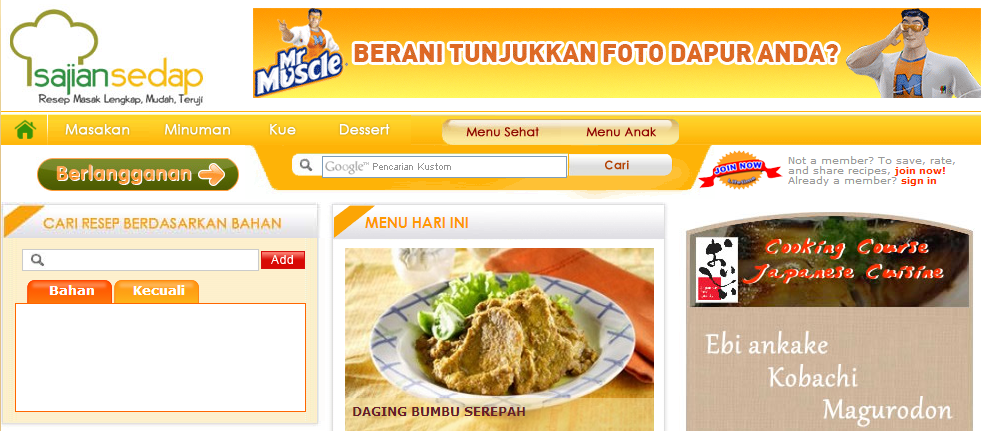 Feel like cooking at home? This site claims to be the largest recipes website in Indonesia. It provides recipes for food, drinks, pastries, and desserts. SajianSedap is part of Indonesian media giant Kompas Gramedia. It has a mobile app, which is available for Android, iOS, dan BlackBerry.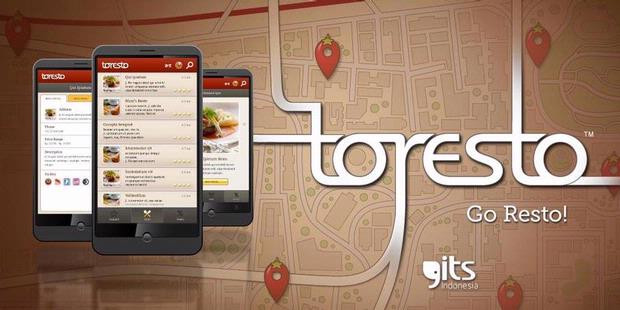 Toresto is an app for finding the nearest places to eat. Like MakanDiMana, it also allow users to add restaurants and give quick reviews. It is available for iOS and Android.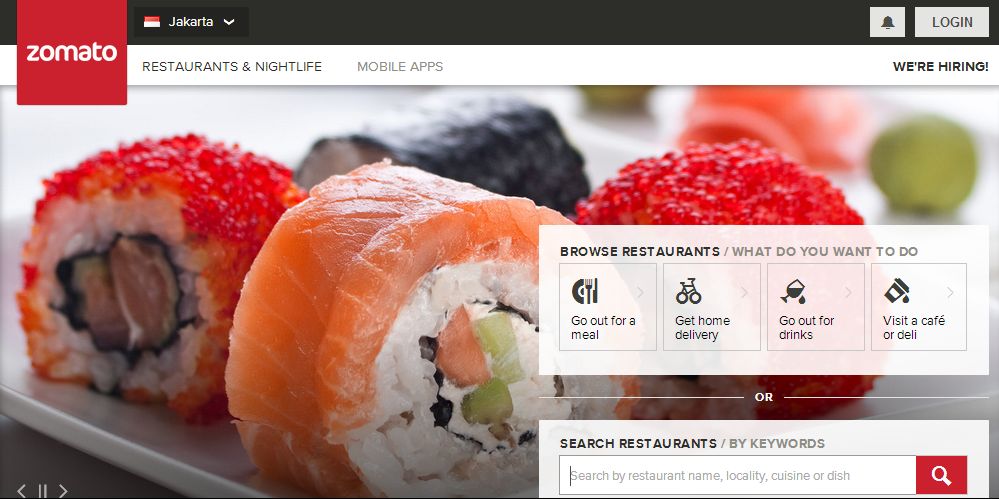 This India-based restaurant listing site rolled out in Indonesia last month. It already has around 12,300 restaurants listed in the Jakarta area, with 11,900 menus uploaded, along with other useful info like photos and address. It will soon add listings for other cities in Indonesia, such as Bandung.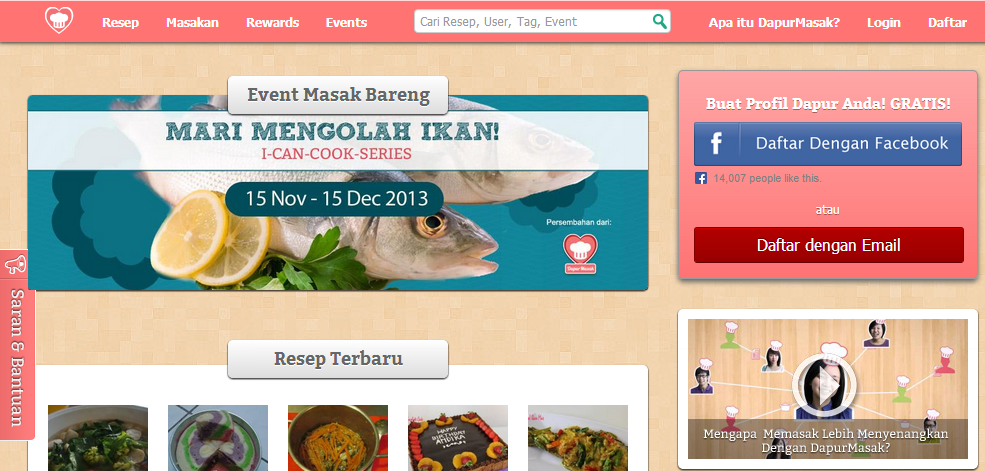 DapurMasak is a social network for cooks, with a whole lot of gamification on the site. The site's focus is simply to let people easily post their recipes and the food they cook. DapurMasak offers new challenges to its users from time to time such as cooking using certain ingredients.
(Editing by Steven Millward and Terence Lee)