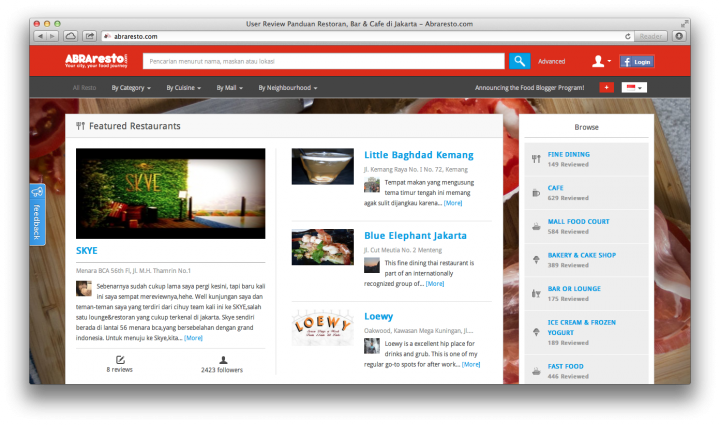 Indonesia has no shortage of food discovery sites. Today we get one more in the form of Abraresto, which is built by the same team behind Singapore-based restaurant booking site Abratable. With a lot of competition present in Indonesia, why does the team believe there's still room for them here?
As a food discovery and review site, Abraresto lets users browse food based on the kinds of venue, cuisine, and location by mall and neighborhood. The site also has search filters allowing users to find places based on facilities like wi-fi, a non-smoking area, and halal food. Its mobile site has a unique feature which allows users to find nearby restaurants.
The team seems to be relying on the "my network" feature on Abraresto to stand out from the crowd. It's a social thing that lets users follow people, be it popular food bloggers or cute girls that they feel can relate to when it comes to food choices. These users can then get customized food recommendations, reviews, and activities based on their network.
I tried logging into the site with my Facebook account and, amusingly, it seems we can also follow restaurants as well which gets you promotion notifications. Abraresto wants to crowdsource its content by asking its users to suggest restaurants and write reviews. It encourages people to do that by holding review writing competitions.
Abraresto has been in private beta since the end of July, and it has accumulated 30,000 registered users with 3,000 user reviews so far in Indonesia. There are more than 5,000 listings for restaurants, bars, cafes, and street food in the Jabodetabek (Jakarta, Bogor, Depok, Tangerang, and Bekasi) area. The team plans to double that number in the next few weeks.
Cooking up the cash

The guys behind Abraresto look solid. Besides having two co-founders who have worked at Standard Chartered Bank and eBay, the Indonesian team is comprised of a few former engineers from Koprol, the first Indonesian startup acquired by Yahoo. The six-man team are handling both Abratable and Abraresto at the same time.
Abraresto will monetize in mainly two ways: freemium listings for restaurants and by offering Customer relation tools (ie: CRM) as a back-end system service to restaurants. I feel that the latter offering sounds similar to what another restaurant booking site, LivEpicly, does to monetize from its B2B side.
Tough competition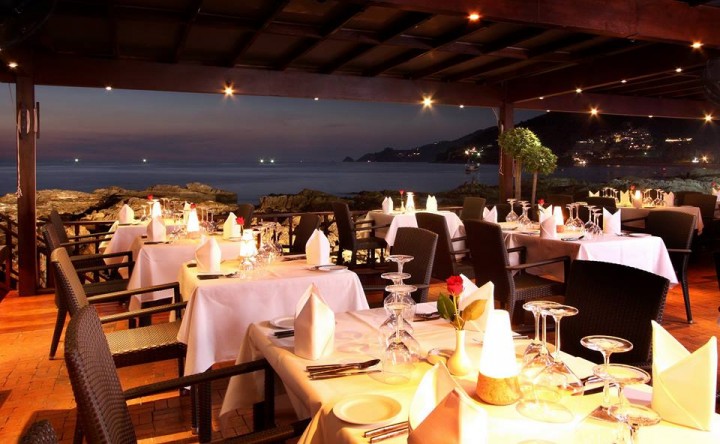 Co-founder Ankur Mehrotra tells us about the problem they're trying to solve in Indonesia:
We are working on building a strong, sustainable and social platform that will provide well structured information relating to restaurants/bars/cafes, which we believe is currently missing in Indonesia. It will provide services to make lives easier for consumers and merchants.
Like I mentioned earlier, there are other startups looking to solve similar issues, like Qraved and OpenRice. The latter boasts a lot more food data than Abraresto, while the former was able to convince 500 Startups to make its first ever investment in Indonesia. And don't forget that India-based Zomato is going to launch soon in Indonesia. Abraresto definitely has to try hard to stand out.
Mehrotra tells us to expect more big news about Abraresto in the near future. Let's see if they can make a dent in this industry.
(Editing by Steven Millward)