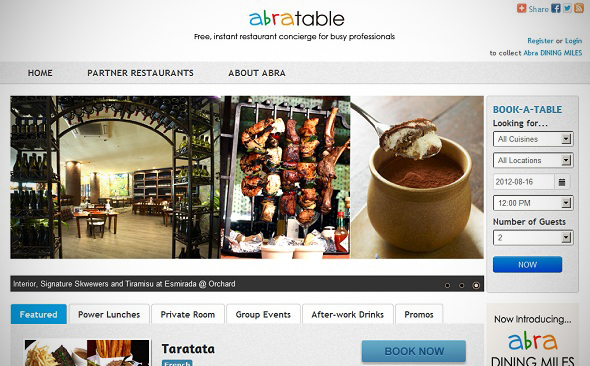 Online restaurant reservation site Abratable has the unfortunate distinction of starting almost a year after its competitors Chope and Reserveit.sg. SingTel, which recently acquired restaurant portal HungryGoWhere, has also ventured into this space.
This means that Abratable, which is based in Singapore, will have to pull all stops and differentiate itself sufficiently from its competitors, catering to a different clientele. It has gone about it in a very interesting way.
Founded in May 2012 by Ankur Mehrotra, a former banking executive with Standard Chartered Bank and the International Monetary Fund, Abratable, I was told, is funded by a group of "prominent bankers in the city".
So, unsurprisingly, the service caters to high-power executives who want an easy way to set up client meetings, power lunches, or group events. And unlike its competitors, Abratable offers the ability for users to reserve tables for 40 people or more at some of its 42 restaurants. This makes the service ideal for seeking locations for company dinners, networking events, or after-event parties.
Executives who want a more discrete location to discuss sensitive or confidential matters have the option of reserving a private room with Abratable, again something that the competitors don't have at this moment.
Another unique feature of Abratable is its Dining Miles, which sounds reminiscent of frequent flyer miles offered by airlines. It works the same way actually: Members of the site can accumulate points and exchange them for perks and discounts.
It seems that the company has done just enough to separate itself from the pack and enter the conversation as a credible choice for online restaurant reservations. Their challenge now would be to continually iterate since the unique features they have can be replicated by other companies.
Like any late entrant to the market, Abratable can still succeed with constant innovation and sensitivity to market demands and opportunities. It will also need to execute fast to catch up with its rivals and expand to other markets in Asia.
It does need to work on its lacklustre site design, however. For a service targeting professionals and executives, Abratable doesn't ooze the sophistication of a Singapore Airlines — it comes across more as the equivalent of a lesser, mid-range airline. Singapore startups in general have been poor in design sense, so Abratable might want to consider hiring a quality designer to stand out from the pack. A mobile app is long overdue too, considering how mobile devices have become so ubiquitous among professionals.