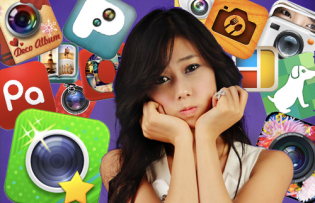 With Instagram getting acquired by Facebook for $1 billion, there is no question that photo apps are a very hot place to be for startups. I think they're still ripe for disruption, Instagram has only about 100 million monthly active users. There are still hundreds of millions of untapped smartphone users out there who could easily be swiped away from Instagram. Here's a look at the best out of Asia. (I've excluded popular folks like Instagram or Tuding because they weren't built here in Asia, the latter being from Finland though mostly used in China).
But the truth is, it seems users don't even care about filters, more than half of Instagram users don't even use filters. I think most of the draw of Instagram has been the social network that's built and ease of use. Some of the apps below do a good job of that, others not.
The nice thing about these photo apps, is it gives you a good idea of how each of these countries is innovating.
China
Most of these Chinese apps are feature-packed filter machines. I think the only one that currently interests me is Photo Wonder since it's so thorough. Some have social networks attached, while some are standalone funky filter apps.

Camera360 (iOS, Android) – One of the most popular apps with over 80 million users. It's chalk full of features on top of the obvious Instagram-like features (it's got way more than Instagram). Users can decorate photos with stickers, edit photos, upload photos into the cloud and even create puzzle patterns with the photos.

Lemeleme (iOS) – A super simple app that doesn't innovate much on what Instagram already does. It basically allows users to take pictures and post them to emails or social networks. It doesn't have its own social network so I'm not sure how it'll fair in the near future.

PaPa (iOS, Android) – An interesting concept that we've written about before, basically users can add sound to their photos. Japan's Voicepic also does the same thing. It's a cool concept but it might get steamrolled by the new wave of video apps coming to the fore.

Photo Wonder (iOS, Android) – Acquired by China's mega search giant, Baidu, it actually allows users to see the filter before taking the picture, which is lightyears ahead of Instagram's post-filter feature. But that's not all, Photo Wonder also has an edit, collage, and allows users to download extra features like stickers and frames.

PIP Camera (iOS, Android) – This photo app departs from the traditional filter-oriented apps and has none of the usual filters you'd see in apps. PIP Camera focuses on framing your photos in different things like glasses, umbrellas, and computer screens. Fun, but a bit overwhelming.

Vida (iOS, Android) – In addition to adding pollution data to images, Vida is a fully packed app that allows filters, and sound. It's even got its own social network. Unfortunately, you have to have an account with a Chinese social network to use it.
Japan
Japan's been pretty innovative with photo apps, especially with apps that mangafy pictures. Fun for friends hanging out.

Camely (Android) – A cutesy app that, according to Rick, is "almost like Instagram if it were force-fed estrogen supplements". Most of the filters are pretty female-oriented and pink, which makes for a particularly cutesy set of pictures. Download it for your girlfriend.

Cameran (iOS) – Cameran's got an interesting take on decorations. It's all about allowing users to randomize their decorations. Click on a flower decoration filter multiple times and you get to see different flower arrangements. It also comes from a rather famous Japanese photographer.

DecoAlbum (iOS, Android) – Another photo app centered on females, DecoAlbum allows users to create photos with text, backgrounds, glittery virtual stickers, and more and even allows you to assemble your photo collections into albums. It's one of the few apps that actually prioritizes making albums.

Decopic (iOS, Android) – This app takes decorations to a whole new level. From adding customizable resizable decorations to hearts and stars painted across the pictures to artsy frames around your picture, Decopic a nice app, if you've got time on your hands.

Line Camera (iOS, Android) – Since it's released by NHN, you just know this camera app is going to be feature packed. It's 600 stamps, over 100 frames, 14 different filters, 156 brushes, and more. It's Line's flagship photo app, and nicely integrated into the chat app. Since it piggybacks on the Line platform, there's lots of users.

Manga Camera (iOS) – With One Piece and Naruto being the world's most widely read comic series', of course Japan would come up with Manga Camera, an app that would literally turn you into a cartoon. You can even add in decorations like Japanese "wow" text.

Million Moments (iOS, Android) – Produced by Sony and primarily focused on photo viewing, Million Moments is a nice though possibly useless departure from the other apps in this list. It allows you to assemble small slideshows so that you can view with your friends. I'd rather view photos on my computer or TV though.

Snapdish (iOS, Android) – Another interesting niche take on photos is Snapdish. It's all about photos and food, the ideal app for food-lovers, and they're big population, half of my friends take photos before they eat. Snapdish puts this all in one place and connects food-lovers with each other, thus socializing food.

Voicepic (iOS) – Possibly the progenitor of PaPa from China, this app also allows you to add sound to a picture. It also allows you to add various filters on top of your sound-enabled pictures. I'm not sure how this is catching on though, especially with services like Vine gaining popularity.
South Korea

Pudding Camera (iOS, Android) – Despite the odd chocolate-like name, don't be deceived, this app's got the usual Instagram-like features plus a cool panorama feature. A panorama feature is not something most apps in this list have.The app annoyingly posts to Twitter, but can be circumvented.

Cymera (iOS, Android) – This photo editor app is a bit complicated and not so much fun, but it's got lots of options for editing your photos. It takes quite a few clicks and touches to get to what you want to edit, but the result it really nice since you can do so much.
Southeast Asia
Since Southeast Asia is particularly fresh to the game, there's not too many apps from each country, but certainly some worth noting, strong unique contenders to their East Asian counterparts.
Singapore

Babygram (iOS) – Have you ever been sick of all the baby photos you get barraged with on Facebook from your friends? Well, never fear, Babygram is here. The app is very specifically about sending baby photos into a timeline for yourself and your close family. Very cute and cuddly.

Fotobook (iOS) – Forget taking photos and posting them to a separate social network, this entire app is dedicated to browsing Facebook photos from your friends. It makes it really easy to look through all your friends' photos. Other than that, not much to it.

PixaRoll (iOS, Android) – A concept rather similar to KeepShot from Vietnam, you take pictures and you can have them sent to people in other countries. Great for travelers who are on the go and don't want to have to carry an extra pen and camera. Why buy a postcard when you can just get your photos sent straight to people?
Malaysia

Nostalgio (iOS) – One of the simplest framing collage apps out there, which basically has a set of 20 basic collage frames and 6 borders to choose from. Nostalgio also has filters to give your collages a little more effect. It costs $0.99, though.
Vietnam

Fuzel (iOS) – An Apple Editor's Choice photo app for 2012's best photos apps, this swanky app from Not A Basement Studio makes stitching photo collages together really fancy. You can select from a host of readymade collage patterns as well as customize your own, and then directly post to your social networks.

KeepShot (iPad only) – Not A Basement Studio newest iPad app allows users to create, edit, and assemble photo albums together. Then it lets users print the beautiful physical photo albums and delivers them straight to users' doorsteps. It's like Pixa Roll for albums, unfortunately, currently the service only ships in the USA.
Indonesia

PicMix (Android, Blackberry) – Indonesia's feature-packed PicMix is awesome. You can edit photos with captions, filters, frames, and text, and following Instagram it's also got a nice snazzy social network to post to. In February this year, PicMix has hit the eight million milestone with more than 108 million photos posted so far.
If we missed any apps, please let us know in the comments, and we will add them to this list.