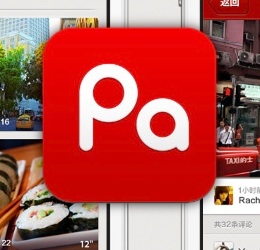 What comes after Instagram? What's the next social sharing niche? A number of startups think that the next surge could be in apps that combine photos and voice, allowing users to talk – or sing, or record background noises – to accompany their photos. Comments can also be in audio form, saving you the hassle of typing out a response. One of these is China's Papa, which I tested out over the weekend.
Papa app – as with Japan's much better named Voicepic – is hoping that smartphone users are tired of simple photo-sharing services. In China, popular ones include Tuding and Vida. And so Papa brings in the voice messaging element of hit apps like WeChat and Whatsapp, allowing people to narrate their images. If they want. The American photographer and artist Ansel Adams would not agree with this move; he once said:
When words become unclear, I shall focus with photographs. When images become inadequate, I shall be content with silence.
Undeterred by Adams, I signed up for Papa (which has apps for iPhone and Android) using Sina Weibo third-party login and found that a few dozen of the people that I follow on Weibo were already active on the startup app. The main timeline/stream (pictured below) is reminiscent of Pinterest, showing who 'hearted' other posts. Once you click on one, the photo is enlarged, and there'll either be a voice message or a text caption: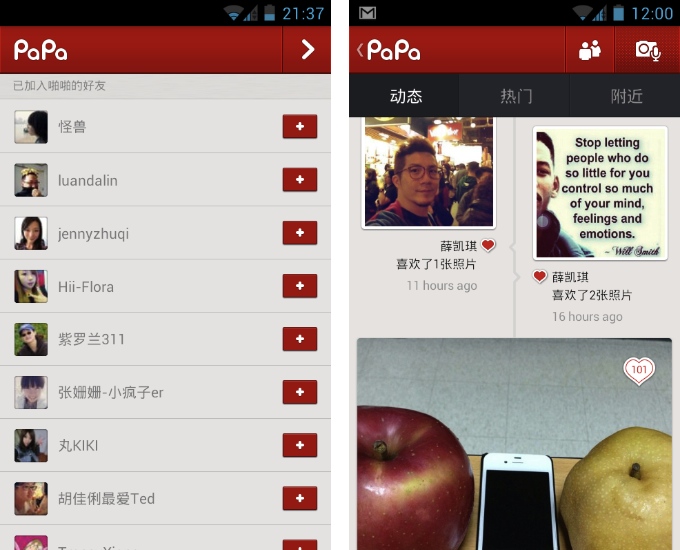 To post something, first snap a photo and then – a lot like sending a voice message – you can hold down the record button to capture your audio. I gave it a try myself, and shared the end result with folks on Weibo. The image gets nicely embedded in Sina Weibo if you choose to share it that way. But your Weibo followers will have to click the provided link to your Papa page to hear your vocal missive, as pictured here: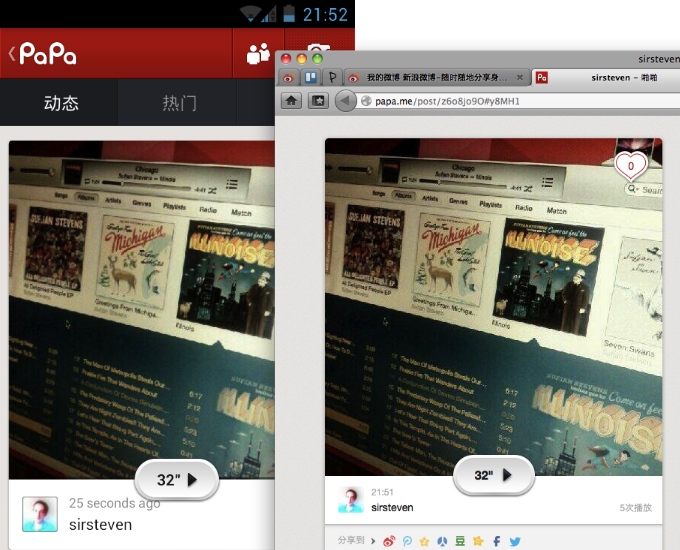 In the Papa app itself, the voice element can also be ignored. It's up to you to decide if you'd like to spend an unrecoverable 32 seconds of your life listening to what I had to say in my first post to Papa. At least it's less of an overt effort than is involved in video-sharing apps, which perhaps explains why video apps like Viddy and Socialcam – and their Chinese counterparts – have been such a let-down this year. At least with things like Papa and Voicepic, the photo is often enough to enjoy all by itself – which is not the case when sharing video.
Papa has a few celebrity users – thanks to its third-party support for posting to Sina Weibo or Tencent Weibo – which will be a useful boost for the app as it grows. The hottest of these might be the actress Angela Baby (pictured below left), while the geekiest is the founder of Innovation Works, Kai-fu Lee, seen here in one of his own images: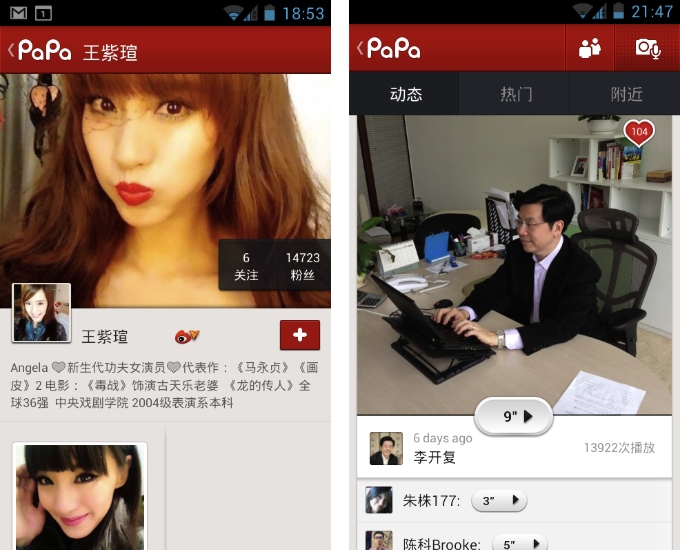 Papa is not being incubated by Lee's Innovation Works, but it's a distinct possibility that it could be taken onboard if the founder thinks it has great potential. As I noted a couple of months ago when I first heard of the app, Papa has received angel investment from Xu Zhaojun, the creator of the Tumblr-like Diandian – and Diandian is backed by Innovation Works. I think it's likely we'll hear of some first-round funding for this pretty soon. That's so long as Papa and Voicepic – and other "Instagram with voice" apps – aren't torpedoed by Instagram itself rolling out audio comments.
Grab the apps for iPhone or Android from the Papa.me homepage.