The price comparison search engine sector is heating up in Indonesia with another player introduced this week: Pricebook. The startup comes in fresh with $150,000 seed funding from Japan's Incubate Fund, making it the VC's first ever investment in Southeast Asia. Is there still room for another player in this industry? The team says yes.
Masahiko Honma from Incubate Fund explains that there are indeed lots of players in Indonesia, but none of them has become the leader yet. They believe that a big information gap exist in this space, and Pricebook looks forward to being the king when it comes to gathering and presenting all the scattered e-commerce listings information into the most accurate and helpful online product data. And all in real-time.
What Pricebook offers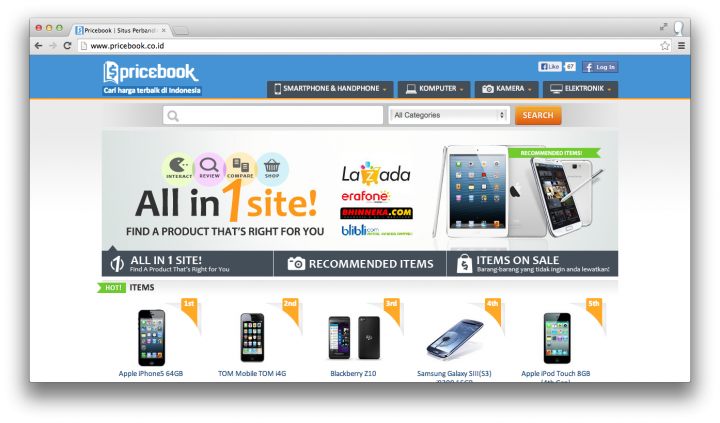 Pricebook will focus on offering two things to users: product and price comparison. The former will map out information like product ratings, specifications, reviews, and forum threads while the latter lists down online shops and products in price order, with other details like shop ratings. Pricebook currently compares four item categories: phones, computers, cameras, and electronics.
Pricebook plans to expand its item categories and keep on improving its search features. Understanding that Indonesia is a mobile-loving country, Pricebook has a mobile-friendly site, and the team will launch native smartphone apps in the future.
The project is now run mainly by its two founders, CEO Tomonori Tsuji and CTO Ryoji Mori. They are based in Jakarta and are looking to hire more local expertise to help run the company in Indonesia.
The whole project started in January 2013 and then restarted with new team members in September. The company now has 6,000 products listed and over 10,000 prices from around 30 shops in its database. Pricebook focuses especially on smartphone products.
Investment and plans
Being Incubate Fund's first ever investment in Southeast Asia, Honma explains that the reason behind it is the good chemistry the team has with Pricebook's founders as well as the belief in the startup's business model. The startup team chose to launch in Indonesia as it has vast e-commerce potential waiting to be reaped in the years to come. Tsuji comments:
Indonesia and Southeast Asia as a whole is in the mid of its strong growth resulting in an explosion of online content volume, thus needing aggregators. Our mission is to enhance the growth of e-commerce side by side with all the players – which are the customers, merchants, distributors and manufacturers. We know how easy online shopping should be for customers, and how valuable e-commerce data will be for sellers. We are here to offer that.
The team has a lot of catching up to do in Indonesia. Competitor PriceArea now has 8.5 million products listed on its site. There are other rivals to be wary off too, like Telunjuk, Rocket Internet's PricePanda, Japan-based Kakaku, and PriceArea Priceza from Thailand.
(Editing by Steven Millward)