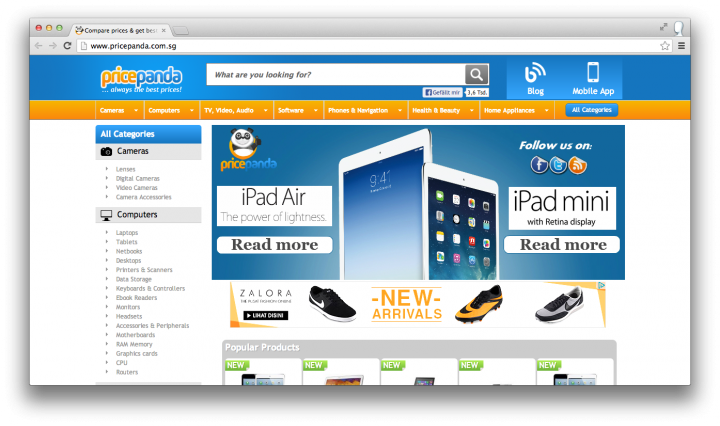 We've heard quite a lot about Rocket Internet's e-commerce ventures in Southeast Asia like Lazada and Zalora, but not as much about its price comparison engine PricePanda. PricePanda's global CEO Christian Schiller tells Tech in Asia that we're about to see a lot more of it in the coming months including the site's plans to launch in Thailand soon.
Launched in May last year, PricePanda is now present in four Southeast Asian countries: Singapore, Malaysia, Indonesia, and the Philippines. The site now boasts a total of 20,000 products and over 70,000 prices for users to compare. Schiller says they have reached a certain volume of market validation and experience to be even more aggressive in Southeast Asia and battle it out with their rivals.
The team plans to do that in two ways in the coming months: launching PricePanda in Thailand and setting up a regional office in Southeast Asia. Schiller explains that Thailand and Indonesia are particularly interesting markets as they have tough competition in the price comparison industry. In Thailand, there is Priceza, while in Indonesia, there are PriceArea, Telunjuk, and also Priceza which recently expanded there.
The key to winning the market lies in finding quality partners to work with, as well as offering the best user experience to customers. PricePanda is committed to becoming the best gatekeeper for its merchant partners with a high customer conversion rate.
Coming soon: regional office

After about one and a half years of operation in Southeast Asia, PricePanda doesn't have a regional office there, yet. Its operations are mainly handled by the 50-man team based in Berlin, and a few salespeople travelling around Southeast Asia to find partners. That's about to change as the team is now staking out places to set up a regional office in the region.
Once the office is set up, it's going to ease the sales team's reporting activity. They won't need to communicate all the way back to Europe. The office will also provide better service centers for partners as they can now be contacted from the morning until evening without a big zone time difference.
Schiller hasn't yet decided which country they plan to set up the office in, but the team's strong Indonesian connection makes Indonesia a strong candidate. Schiller explains that besides himself, the other co-founder of PricePanda is an Indonesian by the name of Louis Iskandar.
Based in Berlin and operating in Asia, it is important for the team to have a good understanding of the region. 30 percent of PricePanda's team in Berlin is Asian, who mostly consist of Indonesians.
Going mobile
Recently PricePanda rolled out its mobile apps for Android and iOS. The Windows Phone and BlackBerry (planned to work across multiple BlackBerry OSes) will follow suit. Schiller explains that this move especially benefits its Indonesian users, as half of them access PricePanda via mobile devices. Indonesia is the leading country in mobile internet penetration within SEA, with the rest recording about 20 percent mobile access.
He says Singaporeans have a habit of calling the merchants and going to the store directly to pick up the products. For that reason, the team added a call feature to Singaporean searches within the mobile app.
No marketplace partners yet
PricePanda earns money with CPC (cost per click) advertising from merchant partners. While it's integrated with online shops, PricePanda isn't connected to any marketplaces yet. Schiller explains differentiating between new and used items sold on those marketplaces is more difficult.
PricePanda's most popular section is electronics. In the future, the team will add computer components, home appliances, and fragrances sections onto the site.
When asked if we can expect PricePanda to announce more funding in the future, the team answers "ideally yes".
In related news, Rocket Internet recently launched its new e-commerce marketplace for Southeast Asia called Lamido.
(Editing by Paul Bischoff)