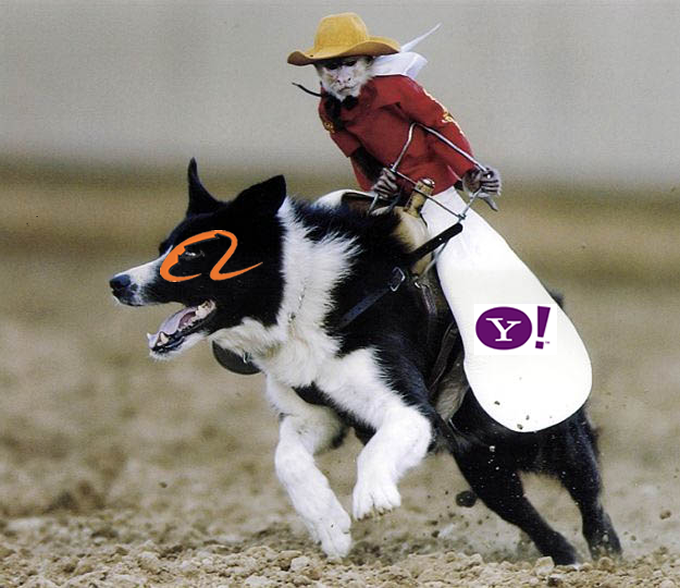 In the west, Yahoo (NASDAQ:YHOO) has been on a slow decline for years now. Its share of the search market pales in comparison to Google's, it's failed to open new services in other verticals, it's hired and fired several CEOs, and most recently saw a decline in display ad revenue.
But one decision that the company made in 2005 may have been its wisest to date: buying a 40 percent stake in Alibaba. Alibaba later bought back some of that, reducing Yahoo's share of the company to 24 percent. Still, Yahoo's share price doubled last year, which Bloomberg attributes to its remaining stake in the Chinese e-commerce giant.
In Alibaba's most recent quarterly report (pdf) – Q3 2013, because Yahoo reports Alibaba's earnings with a one-quarter delay – revenues rose 51 percent to $1.78 billion, its fourth straight quarter of profit growth. Alibaba's earnings amounted to more than twice as much as Yahoo's.
Alibaba owns China's most popular marketplace, Taobao, and its sister site Tmall. It's also behind Alipay, the country's leading third-party payment service. Alibaba is expected to file for an IPO any day now, but it still hasn't settled on either Hong Kong or New York to list. Analysts value the company at up to $190 billion, which could make it the biggest IPO in market history. Bloomberg points out the only internet company that could be worth more than Alibaba is Google.
Thanks to Taobao and Tmall's hugely successful November 11 Single's Day sales extravaganza – $5.7 billion was spent in 24 hours, crushing Cyber Monday in the US – fourth quarter growth is expected to be even higher.
(Source: Bloomberg)
(Image credit: Flickr user Joel Telling – we added the logos)
(Editing by Josh Horwitz)