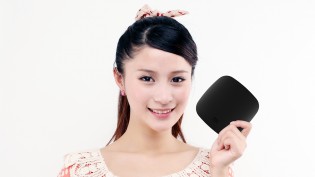 Earlier today, we finally got the details on Xiaomi's new set-top box. But thanks to a presser sent out to media outlets, we've also finally got a real idea of why the company chose to develop a set-top box instead of heading in another direction or just focusing on phones.
According to the release, Xiaomi CEO Lei Jun believes that as the smartphone replaces the PC for many applications, the television is poised to become the most important end-user client in one's home, provided it's connected to the internet. The Xiaomi TV, then, is the first step in that direction; a way of bringing the internet's video content to the TV.
The new device also represents an interesting challenge for Apple. Xiaomi now offers a device similar to the Apple TV for less money, with far more localized content, and it even supports input from all of Apple's mobile devices. If Apple ever gets its Apple TV together and starts really pushing it, the company may find that Xiaomi is already eating its lunch in China, having already attracted Apple fans to Xiaomi's TV platform.
Of course, we may not really be able to see Xiaomi's reasons for launching the set-top box yet. The company is promising frequent updates and it will release an APK to third-party developers, meaning that what the device is capable of now could be very different from what it is capable of one year from now.