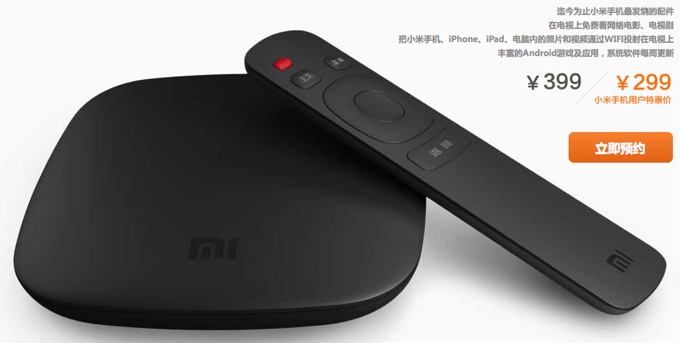 Xiaomi is today capitalizing on the success of its Android-based smartphones by launching a stream-to-TV box, also based on Android, called the Xiaomi Box. It'll stream media from your phone, tablet, or laptop over your home's wifi network, bringing your movies or music onto the big-screen just like with similar set-top products from Apple and Google. The Xiaomi Box will cost 399 RMB (US$63), or a mere 299 RMB ($48) for owners of Xiaomi phones.
Xiaomi's new toy goes on order at 9pm tonight (Beijing time) sometime in December via its website in limited numbers. The Xiaomi.com site has just been updated with some promotional videos and images.
The Xiaomi Box was given a very low-key launch this afternoon in Beijing, with Xiaomi founder and CEO Lei Jun (pictured right) giving a hands-on demo. The gizmo supports Apple's Airplay for streaming media, as well as the industry-backed DLNA and Miracast protocols, and of course allows for full 1080p HD playback. It'll run the same MIUI-themed Android OS that Xiaomi first created back in 2010, and will get regular over-the-air updates in the same way that the company's phones do.
Users of the set-top box can use their Xiaomi phones as a remote control for their zapped-to-TV content, thanks to Xiaomi's new video app which we previewed earlier this month. The company promises that the support for Airplay means that the same applies to iPhone, iTouch, and iPad owners.
The box can handle videos of all kinds: RM/RMVB、MKV、TS、FLV、AVI、VOB、MOV、WMV、MP4 and more are all supported. The device comes with a remote and an HDMI cable, too, so it's ready for use right away. In terms of content, Xiaomi already has partnerships with PPTV, Sohu video, and Tencent video among others. And in addition to videos, the device will allow users to share their photos on the big screen with friends and family.
Here's the interface on a TV: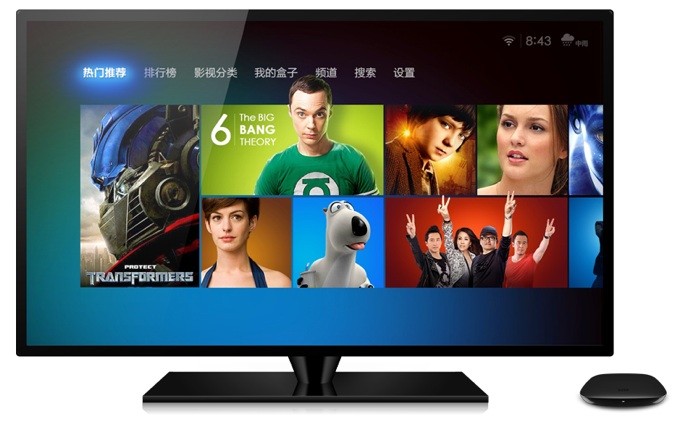 This post was updated to correct the Xiaomi TV release date and add additional details about the device.