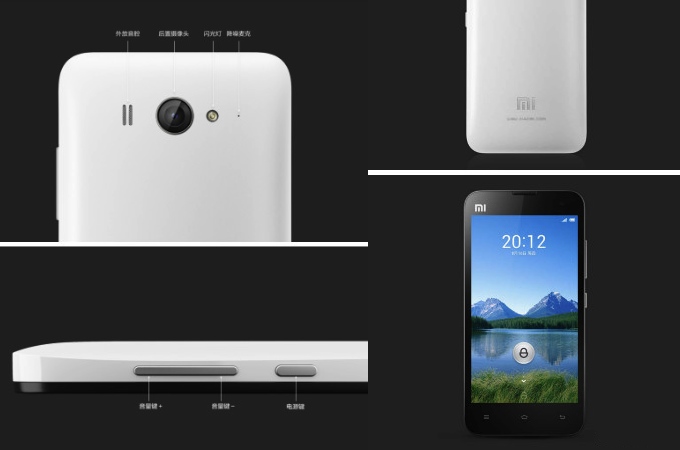 So after a long journey to the Beijing 798 Art Zone, I'm finally here, sweaty with tired thighs from all the walking and finding. But it was worth it, thankfully. Now straight to the Xiaomi Mi2 launch event: the specs that we reported earlier were correct. Qualcomm's new quad-core Snapdragon S4 (APQ8064) chip will be inside the new Xiaomi Mi2 phone. The entire launch event felt sort of like an Apple keynote; and maybe that's what Xiaomi was going for.
There are fans roaring and cheering whenever co-founder and CEO Lei Jun flashes pictures of the new Xiaomi phone, slowly fleshing out its specs. I have had a lot of conversations with folks here today and they all agree that Xiaomi has real fans. That's all talk, of course, but now I'm seeing it for real. The atmosphere is warm, heated with an amazing zeal as people grab pictures. See my snaps below:
Specs!
The Xiaomi Mi2 will be slightly smaller, sleeker, and thinner than before (Lei Jun says that the phone is designed for Åsian hands to hold it in comfort). It's not as wide as the Samsung Galaxy SIII. The rear camera has also been upgraded to an f2.0 27mm lens.
The screen has grown to have a 4.3-inch screen at 1280 by 720 pixels, giving it a pixel density of 342PPI – so it should in theory be sharper than an iPhone.
Lei Jun did show some pictures taken with the new Xiaomi Mi2 phones to show off its camera capabilities. It looks awesome; almost hard to believe. The camera shoots at 8 megapixels and has 1080p HD hi-res snap capabilities on both the front and rear cameras so users can do video calls much more easily. Lei Jun says that with the front camera, ladies can use it as a mirror. In fact, there will even be a mirror app for that!
Other capabilities include wifi display (allowing you to share images/screen with your smart TV), a gyrometer, a pressure/altitude gauge, bluetooth 4.0, and HID, etc. Next, Lei Jun claims that, in a stable wifi connection, Xiaomi's download speed could go up to 42 Mbps which he says is faster than iPhone 4S. That's HSPA+.

Android 4.1 & MIUI
Xiaomi Mi2 will be the first Chinese-made phone on Android 4.1 Jellybean that's not stock – it's skinned with the MIUI ROM. MIUI also gets a Chinese name: 米柚. Today also happens to be MIUI's second birthday. Miui 4.1 will have a voice assistant like Siri (powered by iFlytek) as featured in the newest Android update. Plus there's voice dictation. It will also have its cloud services where you can save your images, videos etc in the cloud – that's the MiDrive app we profiled recently. Xiaomi Mi2 will still be able to customize your case color and also what's inside MIUI, as with the first-gen phone. MIUI will also allow bigger text which Lei Jun jokingly says is good for elderly people in their 40s!
MIUI will have a "freestyle desktop" interface. That means it allows you to design your phone homepage style. You can swipe left, right, up, down to access what you have customized, allowing users to have a totally different way to design their phone interface and how they use it. That's a lot more flexibility than in standard Android.
As for its own group messaging app, Miliao, Lei Jun said that on August 8th there were one million people online on Miliao at the same time. Miliao will also have a PC version which means it's competing with China's ubiquitous QQ instant messaging – and with Tencent's other product, the Weixin/WeChat messaging app.
And how much would it cost? 1,999 RMB (US$313) for everything, folks. At this, the crowd roared. But… it will only become available this October. And for fans who bought tickets for today's launch, they will enjoy a useful 199 RMB discount.
Honestly, the phone looks like an iPhone but it's uniquely built for the Chinese market – and with a lot of support from its Chinese fans of course.
Check out the ever-so-cool 3D promo video of the Xiaomi Mi2 and MIUI below.