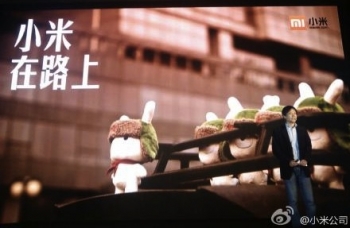 At a press conference today in Beijing, Xiaomi's CEO Lei Jun confirmed rumors that the company will cooperate with China Unicom to offer a custom-made Xiaomi handset through the telecom giant. Previously, Xiaomi's M1 was available only via Xiaomi's website, and has only rarely been in stock.
The phone will go for 2699 RMB ($421) through China Unicom stores, but will be cheaper if purchased with any of several different two- and three-year service package plans. China Unicom has ordered at least a million units, and perhaps more — the company didn't provide a specific number at today's press conference. The phone will be available at over 4,000 brick-and-mortar locations, as well as via Xiaomi's official site.
Mysteriously, it seems they didn't share the two most important pieces of information about this new phone (we didn't attend the presser but were watching the official Sina Weibo liveblog): how the Unicom phone differs from the M1 Xiaomi offered for 1999 RMB on its site (if it is different), and when the thing will actually be available. That seems like pretty basic information, but this was a press conference in the style of Apple, i.e., it's a lecture and no one gets to ask questions. We've contacted Xiaomi for clarification and will update you when we hear back.
In the meantime, a few other bits of Xiaomi news:
New Financing
Sina Tech reported this morning that Xiaomi has also recently received a new round of financing, and at this afternoon's press conference, Xiaomi announced it was $90 million, which puts the company's overall valuation at $1 billion.
Does the M1 cost 900 RMB to make?
A recent report on DoNews suggested that after disassembling a Xiaomi M1 phone and examining the parts, the whole thing costs about 900 RMB in parts. Although obviously Xiaomi also invests money in development and actually manufacturing the things, CEO Lei Jun responded, saying it was just a rumor and adding: "these false experts shouldn't be talking nonsense."