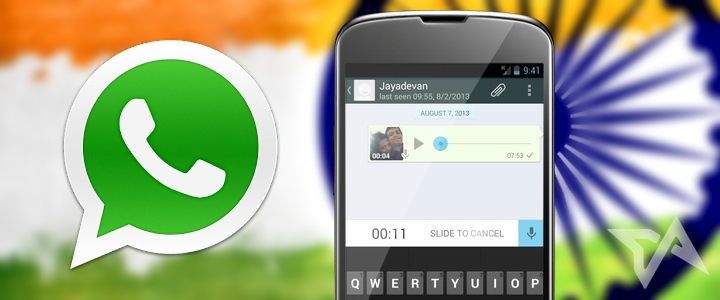 Today WhatsApp representatives revealed to Indian media that the popular messaging service recently broke the 25 million monthly active user (MAU) mark in the country, reports Medianama.
To put this number into perspective, back in August CEO Jan Koum gave the ballpark figure of 20 million monthly active users for the app in India. We could say that the service accumulated 5 million MAUs in three months time, marking a 25 percent increase. But even without the exact numbers, we get the point – there's likely respectable growth in the app's MAUs in India within a short period of time.
This figure serves to further illustrate how competing messaging apps will have to struggle in order to unseat WhatsApp in countries where it retains its first-mover advantage.
No other competing chat apps have even gone so far as to reveal their monthly active user numbers. Yet even their registered user numbers pale in comparison to WhatsApp's active users. As of October, Line counted 10 million registered users in India. WeChat has launched several ad campaigns in the country but has revealed neither registration nor MAU numbers. Hike, one of India's domestic contenders, claimed to have five million registered users, but that was way back in April.
India remains the market to watch for chat app competition due to the country's still-growing smartphone adoption rates. India smartphone shipments tripled annually as of last August, driven mostly by increased demand for inexpensive models.
And if most of those buyers are switching from low-cost feature phones to low-cost smartphones, that means they'll be able to choose which chat app becomes their messaging service of choice.
WhatsApp currently claims to have over 350 million MAUs globally, the majority of whom are located in the US and Europe.
(Editing by Terence Lee)