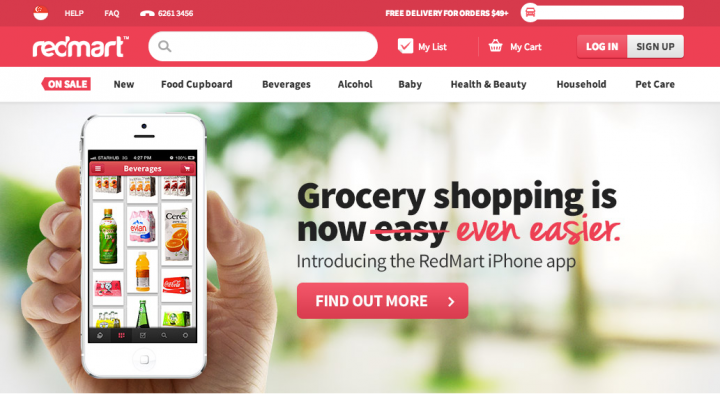 There's a lot of good news coming out of sunny Singapore this month. Yesterday, YFind was acquired by US-based Ruckus Wireless, and last week we also saw that RedMart raised about $3.5 million in series A funding from online gaming services provider Garena.
According to RedMart co-founder and CEO Roger Egan, the fundraising round in Singapore took approximately five months to close, and the team is thankful for Garena doing a tremendous amount of due diligence, which better prepares the company for fundraising in the future.
Expansion efforts are in the pipeline too. Roger tells Tech in Asia that the team is not committed to any particular new countries at present. He stresses that they are concentrating on the Singapore market this year:
We are primarily focused on the huge opportunity in Singapore ($5.2 billion) right now and establishing a strong foundation before we expand internationally. Many people don't realize that Singapore is actually a sizable market for the products we sell, as everyone buys groceries and everyday essentials. We are looking to expand internationally in 2014.
New referral program
The new money in RedMart's wallet will also be used for product selection, broad awareness marketing, as well as technology for logistics to increase the effectiveness and efficiency of its operations, which greatly reduce the operating costs of the company. The site will also be rolling out new features. Roger elaborates:
For example, [there will be] a new referral program that rewards our customers for getting their friends to try us out. We're focused on providing better, more personalized deals, and promotions for our customers.
The team has increased in size to 70, up from 42 when we reported back in February this year. The team currently serves 11,000 registered users, with 65 percent local Singaporean customers and the rest being overseas workers in the Lion City.
Interestingly, Roger tells us that the site's offerings were initially designed for expatriates and overseas workers living in Singapore, who were its early adopters. But he was pleasantly surprised when he saw a trend in the buyer demographics shifting towards locals, and that is growing rather quickly. The team is also now catering its product selection to the expanding local customer-base.
And for those of you based in Singapore, RedMart has an iOS app, which is available for download here.
(Editing by Steven Millward)