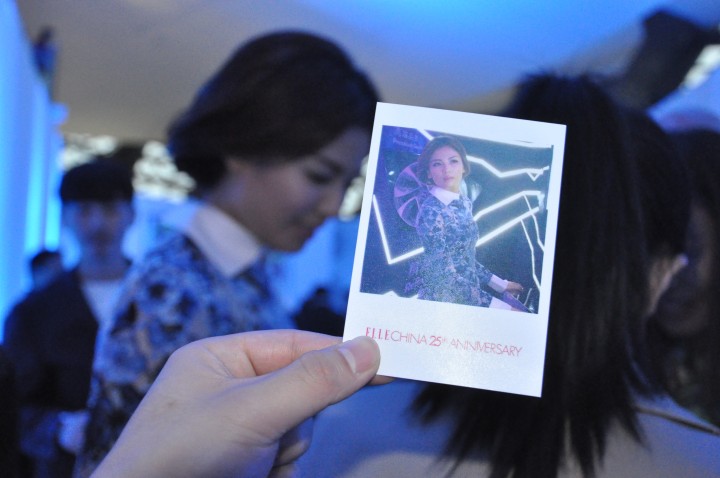 When Polaroid discontinued its instant photo-churning film and camera in 2008, the world mourned the death of a loveable but hopelessly antiquated piece of technology. Make no mistake, smartphones and digital cameras rendered the clunky and lo-fi Polaroid camera redundant. But dated as it was, instant photos retained their mysterious appeal, living on in artist studios and Tumblr blogs to this day.
Many companies have emerged from the fold in hopes of digitizing and modernizing the Polaroid's enduring appeal, though none have caught on significantly. But Welomo, a Chinese startup based in Guangzhou, is making strides, and its founders proudly attribute its growth to WeChat – the popular mobile messenger that's on almost every smartphone in China.
The selfie printer is the new gumball machine
Let's say you're at a cafe with a friend, snapping selfies and posing with your intricately arranged food. Wouldn't it be cool to have a cute paper photo of those selfies to keep in your purse? If there's a Welomo printer nearby, you can. Scanning a QR code on the Welomo printer's screen automatically adds Welomo's service account to one's WeChat contacts list. After selecting a photo to print, users input the four-digit code for the nearby Welomo printer into the chatroom space. The printer then churns out the selfie, which you might then hand out to your friends, or stick on the cafe wall.
Of course, this isn't really about paper selfies, it's about viral marketing. Businesses that own a Welomo printer – which sells for RMB 8000 (about US$1290) – can customize parts of the photo layout. Buy one for your candy store and put your logo in at the bottom corner, next to a QR code for your WeChat official account. It's now a selfie that doubles as a business card.
These business cards can generate some healthy income too. Printer owners can offer photos to customers for free, but Welomo tells merchants the "suggested price" for each photo is RMB 3 a pop, which consumers pay using WeChat's built-in payment service. That's not going to turn a cafe owner into a billionaire, but it will bring in some extra cash – not unlike the gumball machines planted outside supermarkets and movie theaters.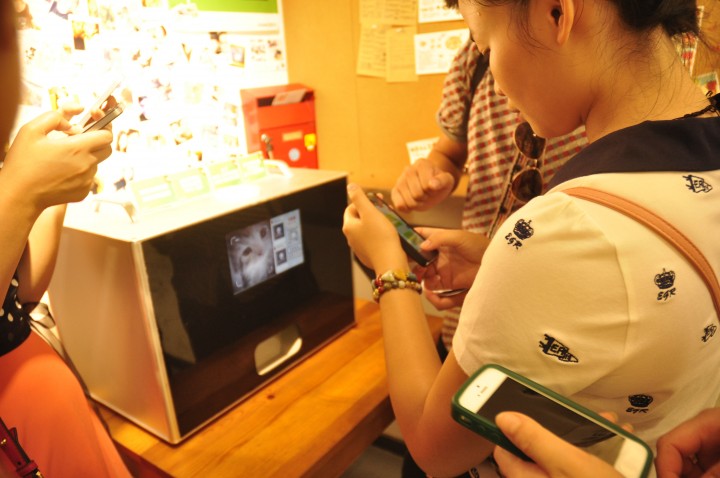 Chance Jiang, co-founder of Welomo, tells Tech in Asia that the flexibility in pricing helps broaden the use cases for the printers. Already, brands ranging from trans-continental hot pot chain Haidilao to telco China Unicom have purchased Welomo machines for marketing and entertainment purposes.
"Haidilao offered free printing services and they thought this would be an add-on that would allow the consumers and diners to share content with their friends," says Jiang. "But later on they found out that the machine could generate revenue to cover the cost of the machine itself."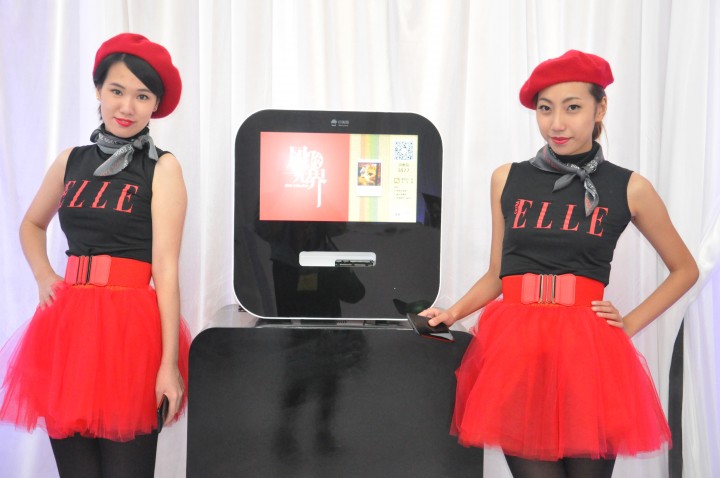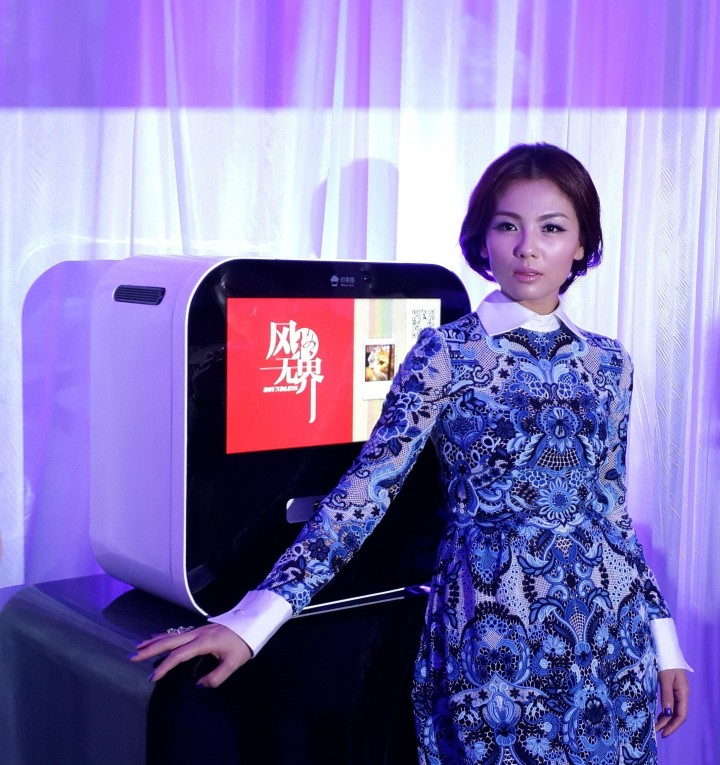 In many ways, Welomo recalls the "everyone pays, everyone wins" business model of WeChat rival Line. In that app, big companies will pay Line for permission to sell branded stickers to users, usually for about US$0.99 a set. As a result, brands get viral marketing and a little cash that might even recoup the initial investment, Line gets cash and increased engagement, and consumers get a virtual good they can show off to friends. The difference with Welomo is that businesses invest in a physical printer, rather than an account, and they sell a physical piece of paper, rather than a digital illustration.
Printing your own destiny
Welomo banks on China's WeChat-drenched zeitgeist, but co-founder Mike Huang, who originally conceived of the company, has a respectable background in so-called online-to-offline technology. In 2003, before graduating from South China University of Technology, he attempted to start a company that let feature phones – the ones with the buttons and tiny screens – control washing machines. That project failed for obvious reasons, but Huang remained undeterred. He tasted success for the first time with a wireless printer for enterprises that caught on big with China's logistics industry, but still yearned to create something bigger and consumer-facing.
The early vision for Welomo resembles its current business model, but with one key difference. Huang and his teammates originally built Welomo printers to work with native iOS and Android apps. When WeChat opened its API to third-party app developers in 2012, the team got on board as an afterthought. It was only when Allen Zhang, the mastermind behind WeChat, reached out to Welomo and invited them to visit Tencent's offices in Shenzhen that the messaging app became the core of the Welomo vision.
We were the first hardware company to connect to WeChat, so [Zhang] invited our whole team to his office and he brought all of the key members from Tencent to check out our product. He was very interested in how WeChat could connect to devices, and asked us, "Why don't you forget about native apps, just connect your machine to WeChat?" One week later, we got rid of our native apps and directly connected the machines to WeChat's API. That was our major first milestone.
Welomo spent 2013 hustling like any good startup. It partnered with fashion brands and attended PR events and startup pitch events. That helped the team generate RMB 6 million (about US$966,000) in sales revenue for the year.
Jiang believes Welomo's strong performance in 2013 helped influence Tencent's own assessment of WeChat's future. The team maintains a close relationship with the Shenzhen-based internet giant, and was one of the first businesses to open a store on WeChat following Tencent's implementation of ecommerce within the app. The store proved to be a resounding success – within six days, the company generated RMB 1 million (over US$ 160,000) in sales, all within WeChat.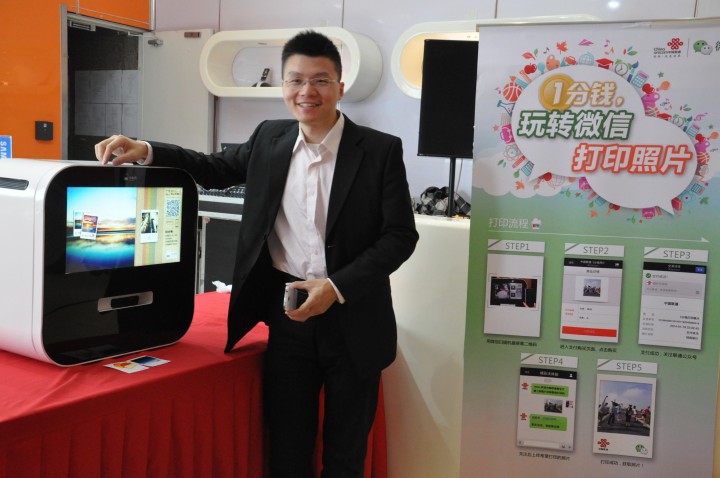 WeChat is going after hardware
In the eyes of Tencent, this ought to make Welomo the posterboy not just for WeChat stores, but for using WeChat as a network fabric that connects multiple devices to one another – regardless of whether those devices are phones. Tencent has always specialized in connecting people over the internet, whether through games or messaging. But what about connecting things?
The smart home space is gradually evolving all over the world, while Google looks likely to take the throne for the so-called "internet of things". But in China, it's still open season. Moreover, given how easily Chinese tech giants form partnerships and launch products these days, it's hard to look at existing initiatives and gauge who will win down the road. Baidu has levereged its cloud platform to help launch home security cameras and health-related devices, while Alibaba recently launched an early-stage internet of things platform called Alink. JD, which Tencent owns a 15 percent stake in, launched a program last week designed to facilitate the manufacture and sales of smart home devices.
Compared to its peers, Tencent has been relatively slow to make loud and proud announcements revealing smart hardware compatibility. But this week it took a big step, as it unveiled a special API specifically for hardware devices looking to connect to WeChat. As part of the announcement, it showcased five activity tracker wristbands in WeChat's "shopping" page, each of which lets users check their personal data through a WeChat official account, rather than a native app. Naturally, data can be shared with friends using the WeChat Moments feature – adding in a social element to the experience.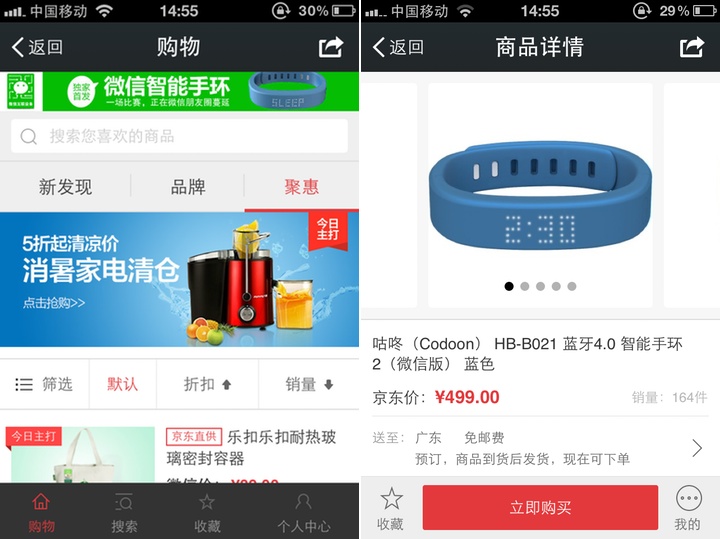 Jiang says that for Tencent, the move from connecting humans to connecting devices ought to be seamless.
Judging from my contact with senior management, their network is their strategy. There's a saying that they are just building a big water dam. Once all the water gets inside, and it's up to them what to do with this huge pool of water. It can be hardware, it can be ecommerce, it can be anything. They have an excellent understanding of user experience and a respect for user privacy. Alibaba and Baidu both have their strengths too, of course. Baidu is more about hard technology and search. Alibaba has built a network of buyers and sellers. but Tencent has ALL the people. It's like Facebook.
For that reason, Welomo currently has no plans to deviate from its current path as a hardware company that leverages the messaging app's ubiquity in order to attract customers.
For us, our company's vision will continue along the lines of making connected machines for business that help build brands over social networks. We're exploring more opportunity in mobile commerce with connected devices and also WeChat's ecosystem. So currently what we're developing is confidential, but I promise you that we are making interesting models right now.
Welomo has bootstrapped its operations and is in the process of raising a series A round of funding.