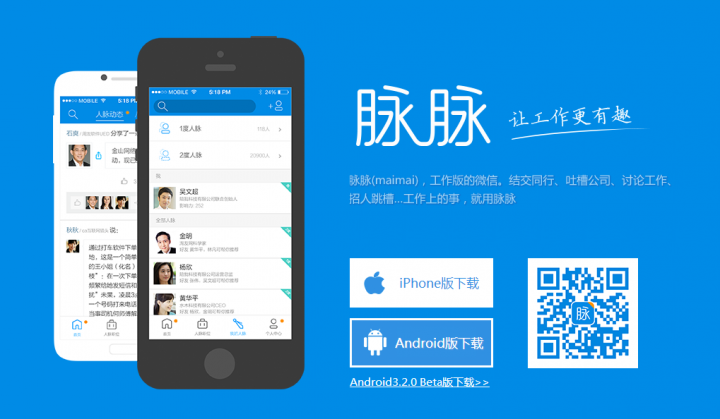 Enterprise chat app Maimai this week announced it received US$20 million in series B funding from Morningside Ventures and IDG, according to 36kr.
The app, which describes itself as a "work version of WeChat", reports 800,000 registered users. The app features individual and group chats, a news feed, and a referral system. Users can network and meet peers within two degrees of separation, as opposed to WeChat where users cannot see friends of friends. Anonymous messaging a la Secret is an option for office gossips.
See: This Chinese app puts Whisper in the workplace, helping white-collar workers dish the dirt
This latest investment will go toward marketing and further product development. The app launched in October 2013; its series A round brought in US$5 million.
Tech in Asia has discussed before how WeChat has become an integral part of both the social and professional spheres in China. But that doesn't mean there isn't a market for people who prefer to keep the two separate. It's here that Maimai hopes to find its audience.
While Maimai's basic functions aren't much different from WeChat or other chat apps out there, it tailors the experience for better efficiency and problem solving in the workplace. Referrals, resumes, and recruitment features are all built in.