In western countries, separating work from play is seen as a healthy practice. We've built our web tools around this premise. You don't hunt for jobs on Facebook. You have a work email and a personal email. Very few of your LinkedIn references are also contacts in WhatsApp.
But in China, all online communication converges at WeChat. The four-year-old chat app now functions as text messenger, Facebook, Reddit, Skype, IRC chatroom, Meetup, and Instagram – all rolled into one.
If you own a smartphone in China, chances are you've got a WeChat account. At last count, Tencent reported 355 million monthly active users globally, the large majority in mainland China.
And now Tencent's flagship app is blurring the lines between professional and social, taking the place of conference rooms, expert forums, recruitment sites, and, with its recent integration of LinkedIn, resumes.
Five or 10 years ago, a seasoned businessman in China might advise you to grab a pack of classy cigarettes and a bottle of strong baijiu before heading to an important meeting. These days, you'd be naive to go without a WeChat account. It's not uncommon for WeChat QR codes linked to personal accounts to appear on business cards.
In China, as with much of Asia, success in the business world largely depends on a person's social capital, or guanxi. Networking is vital, and very few people make it to the top on merit alone. WeChat has brought this very old reality into the internet age. Nowhere is this more apparent than in one of the app's most basic functions: group chat.
When WeChat was first released, groups were limited to 40 people. In China, unsanctioned gatherings of large groups of people at a physical location are illegal, but WeChat makes such forums accessible in the palm of one's hand. Now a group can have as many as 100 people. Beyond that, the moderator must obtain special permission from WeChat. The biggest groups are capped at 500 members, but they are far fewer in number.
An exclusive club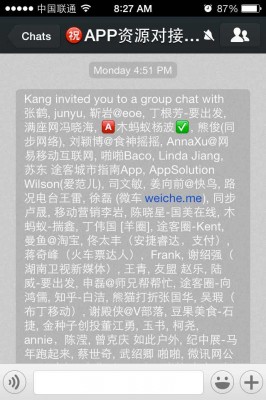 500 Startups venture partner in China Rui Ma says she's part of 15 to 20 groups that she actively pays attention to. All told, she estimates spending one hour per day on groups ranging from cryptocurrencies to her class alumni at Tsinghua University. Most of the tech-related groups, she says, are organized by verticals like mobile, social, or hardware, and often contain 150 to 500 people each.
"The best ones have one main owner and are pretty moderated," Ma explains. Those who get off topic will be kicked out.
Many of the groups are quite exclusive, and require knowing an existing member or even the moderator personally to be invited. Other groups just starting out will publish their QR codes in public online. Ma says she spends a lot of time on forum-style threads. "It's like Twitter in the sense that its people showing photos, articles, and very short conversations," she says, "but it's more curated and more targeted than Twitter."
Ma admits that being in so many groups can get unmanageable at times. She deactivates notifications for most of them, and pins the best groups to the top.
Still, the pros outweigh the cons. Ma says she's been introduced to several people and potential deals, making it an invaluable tool for local investors. Other people share third-party information, articles promoting their own companies, and job ads.
And because Ma is 500 Startups' venture partner for all of China, she notes WeChat is "great for bridging geography." She knows many people living outside of Beijing through WeChat only.
Practical applications go beyond chatting, making connections, and sharing information in a chatroom environment. Ma told us she recently participated in her first ever "WeChat lecture." Essentially, one expert is invited to simply communicate through a string of uninterrupted voice messages, which play back-to-back on Wechat unless the user interrupts it. She's also joined live conference calls, where an organization schedules a time when everyone gets on WeChat using the voice message feature. Ma says some groups even occasionally house Reddit-style ask-me-anything (AMA) sessions.
Some groups are dedicated entirely to job hunting. Beijing resident Zhou Kang is currently in between jobs and says these groups are more effective than job listings and HR websites online. Zhou is a member of about 20 startup and tech-related groups, including one focused on internet finance, an app resource exchange, startup resources, mobile games, education, and travel.
See: LinkedIn's biggest obstacle in China isn't censorship, it's culture
Who doesn't like red envelopes?
So how did all these groups get started? Zhou says they grew from grassroots movements made up of existing networks of people. Then, another wave of groups was started just recently, around the time of Chinese New Year in early February. That's when Tencent created a feature within WeChat allowing users to send red envelopes, or hongbao, to groups of users.
These virtual gifts are filled with an amount of money determined by the sender, which is randomly distributed to the group members. This new take on traditional New Year's gift-giving with a hint of gambling was a viral success. By the end of the celebration, 20 million red envelopes were sent to groups of family and friends. Tencent's intent was to get people who otherwise wouldn't bind their bank card to their WeChat account – required to receive the app's cash gifts – to sign up. The scheme was genius, but it had another unintended outcome.
"Some groups initially attracted people using red envelopes," Zhou says, "This works for specific companies […] marketing to small ecosystems."
"Companies sent their CEOs to small groups to hand out red envelopes," he explains. Now businesses can rope in tiny but extremely targeted audiences by setting up their own cash sweepstakes. Sometimes new groups were created just for this purpose, and other times existing groups were sought out. Few people will reject free money, giving savvy business people access to new networks and industry experts.
Conflict resolution at light speed
The chat atmosphere in professional WeChat groups varies, but Ma mentions most are kept fairly professional. Zhou says, "the seriousness and focus depends on the moderator, who sets the rules."
After a group reaches a certain size, the moderator becomes the only person who can add new members. This person's unofficial responsibilities include keeping the content of the chat on topic and mediating confrontations between members.
Founder of Startup Noodle Schlomo Freund runs Lean Startup Meetup Beijing, currently the largest Beijing-based group on Meetup.com with over 800 members. To keep the conversation going between meetup events, Freund moderates two WeChat groups for members where the main language spoken is English (a rarity here). Freund says the groups usually take care of themselves and he rarely has to crack down. In one recent case, however, job listings posted by a headhunter in the group started to approach spam territory. When another member called the headhunter out, a heated argument ensued. Freund was forced to step in, but he was able to resolve the conflict without kicking anyone out.
Freund says Meetup still functions as the main tool for organizing events because not everyone can fit in the WeChat group, but the chat app is still the best method for disseminating information to members quickly. "I get a lot of requests and opportunities from people because of my role, and I'm happy to share that with the group," Freund says. "[WeChat] would be the fastest way to do it."
WeChat can even function as a diplomatic channel between companies. Beijing-based Global Mobile Game Confederation includes many of the biggest game developers, operators, and distributors in China with plans for international expansion. One of the company's goals is to eliminate copyright infringement in the mobile gaming industry. GMGC serves as an objective third party and sets up channels for copyright disputes.
GMGC's few dozen employees manage most of the disputes, but when neither party budges, founder David Song himself will step in. His weapon of choice is WeChat, which he says is a perfect tool for negotiation. No scheduling or physical meeting place is required. It's instant and easy to monitor, and the entire dialogue is recorded in the app. Song effectively takes the role of middleman to create WeChat groups between himself and both concerned parties separately. Once he lays the foundation for an agreement, he'll combine the groups and allow them to make the final decision.
In a landmark case for GMGC, Song helped settle a dispute between two of China's biggest gaming companies, China Mobile Games and Entertainment and Cocoa China. Cocoa China accused CMGE of publishing a clone of one of its games. Song set up a WeChat group between the CEOs and VPs of both companies, and a solution was reached within 48 hours. CMGE agreed to take down the offending game.
The middleman approach, Song says, is beneficial for everyone involved. No legal action is necessary. Even small developers can have their voices heard, and bigger companies don't have to expend human resources on relatively minor conflicts.
Drowning in the noise
Despite all the praise WeChat gets as a professional tool, it has downsides. The biggest complaint regarding the groups is clutter; if a user is in 20 groups each with over 100 people, sifting through the flood of information can be too much to keep up with.
One solution is to separate the day-to-day conversation from the more significant announcements and need-to-know content. We've seen this in new group-centric apps like Sina's WeMeet and KakaoTalk's KakaoGroup, but these have largely failed to find traction so far. Facebook is expected to spin off Facebook Groups into its own self-contained app at some point, recognizing the gap in the market for this sort of service.
If WeChat follows suit and leverages it's already massive active userbase, it would be a watershed moment for social and professional networking in China.
This article was originally published in our bi-weekly Insights e-magazine. Find out more info about TiA Insights here.