Anonymous social apps like Whisper and Secret have blown up in the US lately, attracting media attention for their risque content and foaming valuations. In particular, Secret earned a reputation as the unofficial tabloid for the Silicon Valley startup community, as entrepreneurs and impostors alike share the latest industry gossip without fear of getting ratted out. Among other high-profile incidents, news of a female employee's departure from Github amidst an alleged sexual harassment incident first broke on the app, as did information regarding the latest venture from former Square and Paypal exec Keith Rabois.
While Secret's traction in the Valley might have come about unintentionally, one Chinese company is trying to replicate its success in the west by borrowing from the basic concept and placing it directly in a workplace context. The result – Tusi (or "toast" in English), an app that's already broadcasting some dark secrets from big-name Chinese companies.
We've previously covered two Chinese apps that "drew inspiration from" Secret and Whisper. But while those apps merely imported the anonymous social concept, Tusi arguably improves on Secret.
After downloading the app, users must register for Tusi using either their QQ or Weibo accounts. Afterwards, you'll be asked to specify the name of the company you work for by entering it in a search field or specifying from a list.
Tusi features a main feed that appears to aggregate recent posts according to popularity, along with theme-specific (office romances, weird coworkers) and company specific feeds.
Posting a rumor works more or less like the same as Secret or Whisper, albeit with an added twist – stickers are mandatory. Along with a few other characters, Tusi's toast-faced mascot is here to liven up your workplace gossip.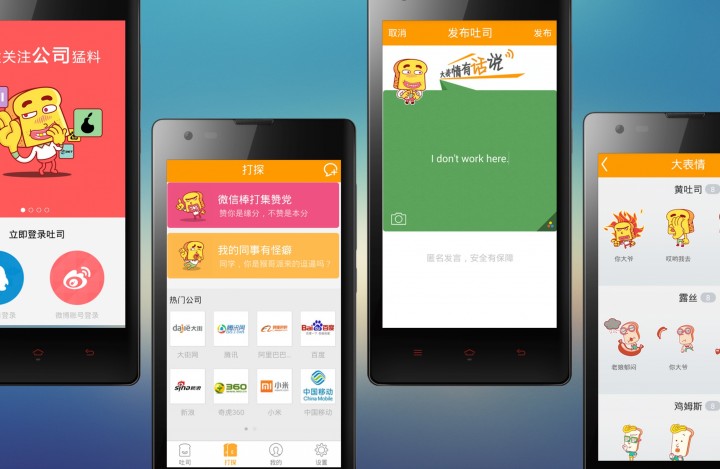 Already, users claiming to work at high-profile Chinese companies like Baidu and Alibaba have sent out posts on Tusi.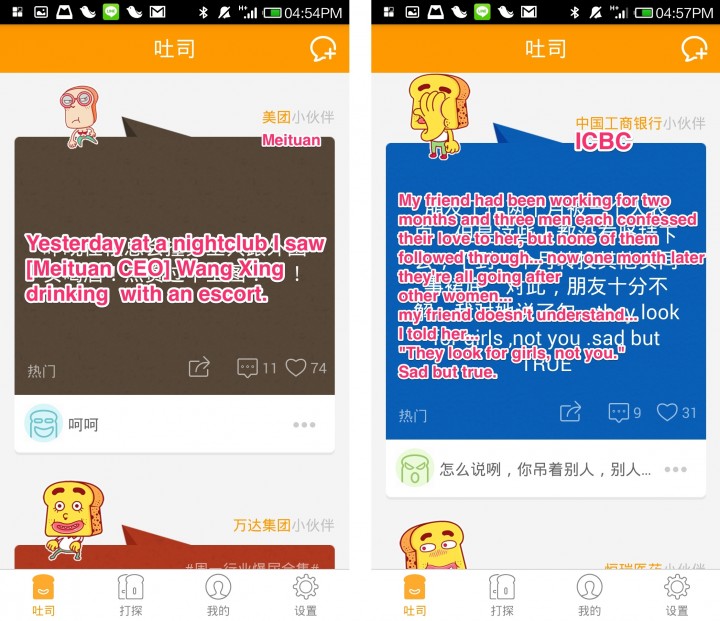 It doesn't look like Tusi imposes any sort of verification check on its users' identities – this writer registered as a Xiaomi employee.  Implementing these sorts of checks would improve the credibility of the rumors that surface on Tusi, but of course, that might deter people from actually using it to spill the beans.
Perhaps that's why Dajie, the company behind the app, appears to be downplaying its involvement. While the LinkedIn-esque company created Tusi, there's no button in Tusi that redirects to the Dajie homepage or mobile app. However, since Tusi is barely a week old, it seems quite likely it will evolve if it proves to be a hit. According to Sina Tech, the company is currently hoping to add more social elements to its core social network for white-collar workers – Tusi likely marks the first step in that process.