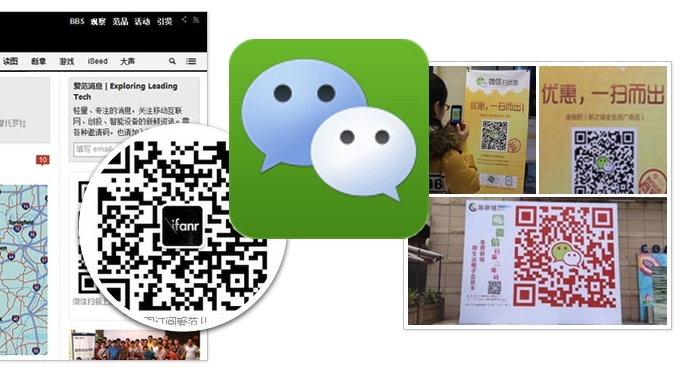 The world's biggest group messaging app, Tencent's WeChat – or "Weixin" as it's called in Chinese – is taking an interesting turn in China. It is now also a platform for social media marketing, allowing blogs, newspapers, TV shows, brands, and celebrities to reach out directly to the app's 100+ million users.
This new aspect of WeChat is being pushed by Tencent on mp.weixin.qq.com, where users of the messaging app can login and browse some interesting people or media to follow. It makes the messaging app a lot more like China's Twitter clones, such as Tencent Weibo and its rival Sina Weibo. Already, a bunch of Chinese celebrities have agreed to join in the fun, as well as popular TV programmes like the dating show Fei Chang Wu Rao. Also, it's good to see that lots of local tech blogs are trying this social media venture as well.
It all centers around QR codes, which are readable within the WeChat app. QR codes are easily created by anyone within the app, and can be shared on the web or printed out. Now, with this new focus on using it for marketing, it's a tool for brands as well. Possible future uses include dishing out discount coupons to loyal and engaged customers. This means that companies now need to consider WeChat as a means of reaching out to Chinese consumers.
To test this out, I went to Chinese-language tech blog iFanr.com and scanned its new WeChat QR code. Now I've friended – or followed – the site on WeChat, and it occasionally sends out a mass message to everyone who follows: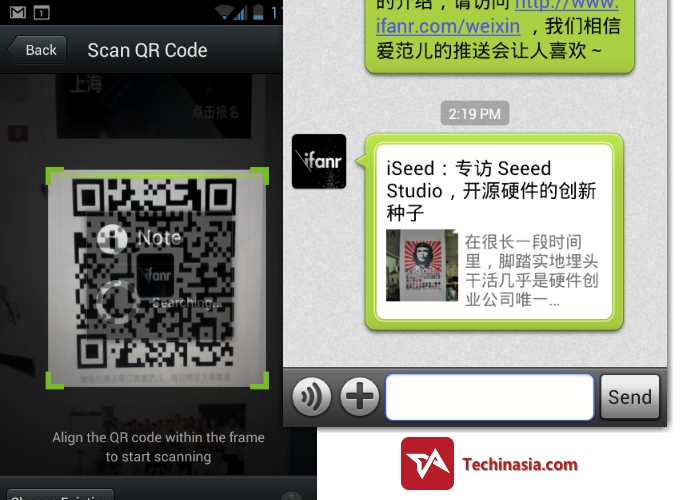 Thankfully iFanr has been nice and just sent me two messages over the course of two days. But, in theory, this whole marketing push could be used to spam users directly on their phones.
At the moment, though, the whole system is rather over-reliant on those QR codes. There's no good way to search for all these brands, blogs, and celebs within the WeChat app, so you'll need to find and snap that QR elsewhere on the web. It's conceivable that Tencent will add some kind of discovery portal within the app soon. With that in place, the group messaging app will have taken a clever – if somewhat odd – step forward in becoming a lot more like Weibo.
Meanwhile, over in Korea and Japan, messaging apps KakaoTalk and Line have taken a different approach and launched social gaming platforms. With Tencent also being the king of gaming in China, it's possible that WeChat could also go in that direction at a later date.